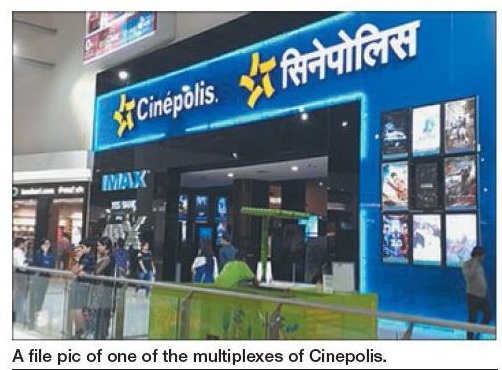 ■ Business Bureau :
AFTER a long lull, Cinepolis finally announced the opening of its six-screen multiplex in the seven-storey state-of-the-artVR Mall located near Medical Square on Rambagh Road. On its official Instagram account, the Mexican chain of movie theaters recently shared a picture of the facility saying 'Our 6-screen cinema is open at VR Mall'. The movie buffs can now book the tickets for the shows. When contacted the representative of Cinepolis in the city, refused to share the details. However ,the sources said that the company is on a trial mode. "Right now only five out of the total six screens are in operation. But very soon the multiplex will start operting in full swing," said the sources. The new facility is ready with its food court to entertain the movie enthusiasts.
For the past two years, the Cinepolis and other well-known brands like Hennes & Mauritz (H&M), Timezone were preparing to open their facilities in the earthwhile Trilium Mall (which is now VR Mall). But due to coronavirus, the arrival of these brands in the city got delayed. Now as the clouds of uncertainty caused due to the novel coronavirus started disappearing, markets and other commercial places have started buzzing once again. Footfall in the city's malls, bazaars, restaurants and even in the cinema halls is showing remarkable jumps which eventually paved the way for opening of the muchdelayed multiplex.
According to the sources, the mall assures all necessary precautions to avoid coronavirus including thermal scanning, contactless security check, hand sanitizers, social distancing, contactless food service, temperature checks, limited occupancy , etc. The mall has about 3.8 lakh square feet built up area and it offers a huge parking area for the visitors' vehicles. When the mall was opened for visitors in August 2019, it had witnessed the arrival of 35 wellknown brands and about 45 more were on their way to set up a facility in the mall located in Medical Square. However, the pandemic poured cold water over the ambitious project.