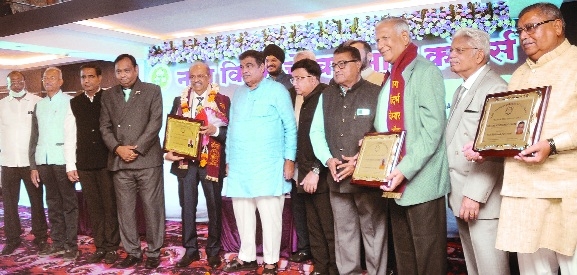 Business Bureau :
The annual Diwali Milan event of the Nag Vidarbha Chamber of Commerce (NVCC) held here in the city on Saturday saw participation of the city's who's who. Political leaders, bureaucrats, industrialists, businessmen, traders, professionals and others attended the mega event. As it was one of the first mega events of the city's traders after the recent pandemic, the excitement among the participants was at a different level. With trade and commercial activities coming back on the track after a long lull, they were all reflecting a sense of relief. On the occasion, Union Minister of Road Transport and Highways Nitin Gadkari encouraged the traders and businessmen by highlighting the growth trajectory of the region. He said that the region's entrepreneurs have recorded remarkable growth and have emerged on the global map. "The country is progressing at a rapid pace and so is its economy.
The Vidarbha region is also witnessing a similar trend wherein many developmental projects are coming up. In addition to this, the prevailing high market price of cotton is also expected to improve farmers' income in the current season," he said. Further, Gadkari said that there is a need to encourage the big entrepreneurs who are investing in the region. As per its tradition, the traders body also felicitated select entrepreneurs for their outstanding contribution to the field of trade, commerce and industry. This year, the chamber conferred 'Maharashtra Bhushan Puruskar' upon Chairman-cum-Managing Director of Confidence Petroleum Nitin Khara for his achievements in business and outstanding work in the social field. Similarly, the chamber gave Vidarbha Ratna Puruskar to Director of Sharda Ispat Private Limited - Nandkishor Sarda and Jeevan Gaurav Puruskar to - Ghanshyam Kukreja of Adroit Pharmaceuticals Private Limited; Shrichand Daswani of Suganchand Medical and K J George of George Construction Company. Apart from this, Sacheen Vastani of Dass Jewellers was given Yuwa Udyami Puruskar.
At the outset, President of the chamber Ashwin Mehadia welcomed the guests while Secretary Ramavtar Totla conducted the proceedings. Rajya Sabha Member Vikas Mahatme, Maharashtra Energy Minister Nitin Raut, Senior Congress leader Avinash Pande, former MLA Ramesh Bang, Former Minister, NCP State Vice President Anil Ahirkar, former Minister Satish Chaturvedi, Corporator Rupa Rai; National President of CAIT B C Bhartia, President of VIA Suresh Rathi, President of NCCL Kailash Jogani, President of BMA Pradeep Khandelwal, President of COSIA Vidarbha Chapter Julfesh Shah, Chairman of ICAI Nagpur Chapter Saket Bagdia, Secretary of Wholesale Grain and Seeds Merchant Association Pratap Motwani, office-bearers of NVCC- Hemant Gandhi, Sachin Punyani, Swapnil Ahirkar, Farooque Akbani, Arjundas Ahuja, Sanjay Agrawal, Umesh Patel, Shabbir Shakir and others were also present.