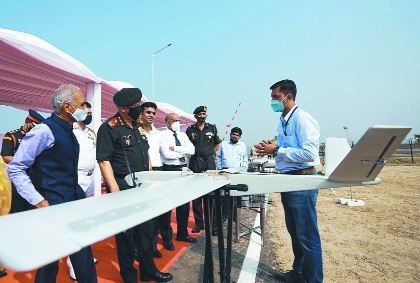 Business Bureau :
Soon after successfully demonstrating the prototype Weaponised Drones (Hexacopter) and Loitering Munitions to Chief of Defence Staff General Bipin Rawat on Monday, Solar Industries said that the systems will be available for the Indian armed forces at a very competitive price. Anmol Rathi, Deputy General Manager of the company, said that the systems will cost at least 40 to 50 per cent less than that of the cost offered by its global competitors. "Though we are making high quality and reliable products, it will cost very reasonable to the country. Besides, it will be a major boost to 'Make in India' initiative especially in Defence sector wherein foreign players are playing dominant role," he said. It is worth mentioning here that some of the foreign countries have already shown interest in the systems and expressed their desire to pay extra price for it.
"These systems are very unique and based on modern technology. And thus they are good demand in the global markets," Rathi said. Solar Industries is the first Indian company to fully indigenise and develop Loitering Munitions in-house. The company is making several versions of the munition - LM-0 (1.5 kg, 15 km), LM-1 (4 kg, 25 km) and LM-2 (10 kg, 100 km). The timeline set by Solar Industries to complete the challenging task is January 2022. Large infrastructure for production, testing and evaluation of these systems is being set up on Amravati Road. Apart from this, the Anti-Drone System being developed by the company would be rolled out in the markets within next 10-12 months. Solar Group is a global leader in packaged explosives and accessories.
It has one of the largest production facilities for HMX and its compositions in the world. In the year 2010 the company forayed into the field of defence and became the first private company in India to produce complete ammunition. It entered into the field of testing and became the first to develop a world-class facility in the country to determine the shelf life of ammunition and energetic material based on Isothermal Micro Calorimetry (IMC) revolutionising the existing procedure to save crores of exchequer money and prevent ammunition related accidents. To keep pace with advancements in defence technologies and adopt force multipliers to counter enemy threats, Solar Industries took up the challenge to enter the field of drones and loitering munitions. Drones have become an integral part of modern warfare.