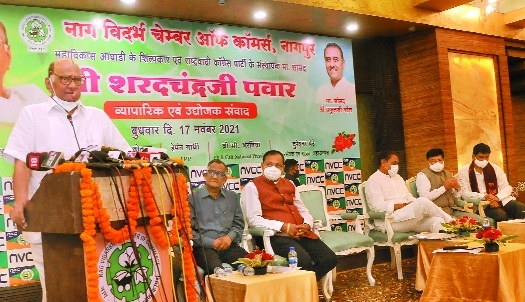 Sharad Pawar, founder and President of NCP speaking at an interactive meet organised by NVCC on Wednesday. Also seen are B C Bhartia, Ashwin Mehadia, Praful Patel, former MP, Hemant Gandhi and Duneshwar Pethe.
Business Bureau :
Sharad Chandra Pawar, President of Nationalist Congress Party (NCP) on Wednesday underscored the need to have policy for traders to compensate losses incurred during violence, fire outbreak and agitation. He was speaking at an interactive meet with trade and industry organised by Nag Vidarbha Chamber of Commerce (NVCC). Praful Patel, Member (Rajya Sabha), Duneshwar Pethe, City President of NCP, B C Bhartia, National President of CAIT, Ashwin Mehadia, President of NVCC and Hement Gandhi, IPP of NVCC were present on dais. Pawar continued that during independence, about 80 per cent of country's population was dependent on agriculture which has declined to 30 per cent. "In order to have a sound economy in the country, we have to focus on three pillars of economy-- agriculture, trade and industry," he stated. The policy makers and those who run the country should ensure that agriculture, trade and industry are taken care of properly. "It is their duty to ensure how to strengthen these three basic pillars in the country," he said. "There is large scale regional imbalance in the State.
It is necessary that regional economical disparities are removed and proper equal development is maintained. It is also necessary that the service sector gets proper opportunity to develop," he added. Whenever any party or person gets an opportunity to rule the country, the primary responsibility of the leader is to concentrate on development of the nation and not towards party, Pawar said. Referring to the issues raised by Nag Vidarbha Chamber of Commerce and other trade associations, he said that he had taken cognisance of issues raised by them. "I am prepared to sit with representatives of NVCC and Government officials to resolve burning issues of traders after the end of Winter Session of Parliament," he said. A committee would be formed comprising Government officials and traders to discuss local and State level issues. The committee would meet every quarter.
Praful Patel said, "Pawar is senior leader with wide experience. He is acquianted with issues of trade and industry. He is a visionary leader and worked for the development of Maharashtra." Ashwin Mehadia, President of NVCC took up the issue of layouts falling under Nagpur Metropolitan Region Development Authority (NMRDA) which had sent notices to small industries, warehouses, cold storages and traders. "These layouts and buildings were sanctioned by tehsildars and Gram Panchayats and requires no further sanction," he said. Members of CAIT, NCCL, BMA, VTA, VED, NRHA, COSIA, CREDAI Nagpur Metro and others were present.