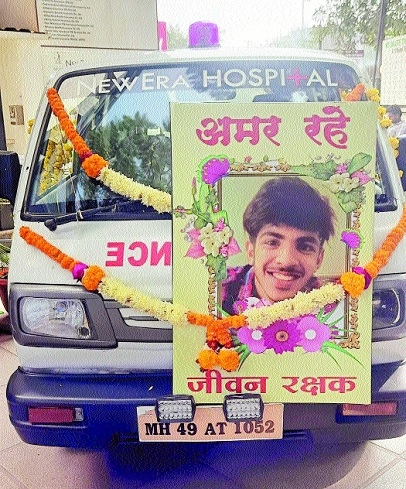 Principal Correspondent :
A young life cut short after cruel blow of fate extended the life span of three others. Tirth Shah, who had just passed Class 12 exam, met with a freak mishap on November 14 last. Despite doctors trying their best to revive him, he could not respond to the treatment. On November 17, Tirth was declared brain dead by the doctors. The news came as a big jolt for his parents -- Devang Shah and Darshana Shah. Tirth was their only child. Keeping their cool, Shahs, including Tirth's grandfather Jayantibhai Shah, decided to donate the vitals of their son whom they called Jeevan Rakshak. For doctors, the decision was a bit surprising one as normally, the kin decide for organ donation after series of counselling. But Tirth's case was different. The only condition Shahs put was, to take Tirth's body in a decorated vehicle with his huge photo displayed at its front.
Dr Anand Sancheti, well-known cardiac surgeon and Director of New Era hospital, while talking to The Hitavada, said, "We were touched by the gesture of Shah family who wanted so spread the message that their son is alive through his organs that would provide life to three persons." According to information, Tirth Devang Shah, only child of his parents, fell down from his bike on November 14. He had episodes of vomiting the same evening. He had his dinner and went to sleep. Next morning his grandfather Jayantibhai Shah went to his room to wake him up, but Tirth did not respond. Sensing the seriousness, the family immediately took him to New Era hospital. Even after three days' treatment, his condition deteriorated and team of doctors declared him brain dead on November 17. Shahs had shifted from Mumbai to Nagpur two years ago. Tirth's father, Devang Shah is working in a steel company while his mother Darshana owns a boutique.
Dr Ashwini Choudhary at New Era Hospital counselled the family members for organ donation. Shahs agreed to donate organs of Tirth. It was a tough decision as the family had lost its only child. The Zonal Transplant Coordination Committee (ZTCC) headed by Dr Vibhavari Dani as President, Dr Sanjay Kolte as Secretary and Veena Wahtore as Zonal Coordinator, played a major role in allowing donation of Tirth's heart, lungs, liver, kidneys and cornea. But due to some logistic reasons Tirth's heart and lungs could not be retrieved. Dr Nilesh Agrawal, Neuro Surgeon; Dr Anand Sancheti, Cardiac Surgeon; Dr Nidheesh Mishra, Cardiologist, all three Directors of New Era Hospital took efforts for this noble cause along with ZTCC. ZTCC allocated liver to a 56-year old woman at New Era Hospital, Nagpur, one kidney to a 66-year old man at New Era Hospital, second kidney to a 28-year old man at Wockhardt Hospital and pair of cornea to Madhav Netra Pedhi.
Organ donation details -- Kidney retrieved and transplanted at New Era Hospital. Dr Prakash Khetan, Dr Ravi Deshmukh, Dr Shabbir Raja, Anaesthetist Dr Sahil Bansal, Dr SnehaKhade, Transplant coordinator Dr Ashwini Choudhry and Pallavi Jawade worked as a team at New Era Another Kidney retrieved and transplanted at Wockhardt Hospital with the help of the team comprising Dr Sanjay Kolte, Centre Head, Abhinandan Dastenavar, Nephrologist Dr Suryashree Pandey, Anaesthetist Dr Awantika Jaiswal, Medical admin: Dr Rakesh Shah, Transplant coordinator: Payal Katre Choudhary. The retrieval and transplant of liver was done at New Era Hospital under the able guidance of Directors Dr Nilesh Agrawal and Dr Anand Sancheti. The team of Dr Rahul Saxena- Liver Transplant surgeon, along with Dr Sahil Bansal and Dr Sneha Khade, Transplant Coordinator Dr Ashwini Choudhary, Pallavi Jawade succeeded in the liver transplant.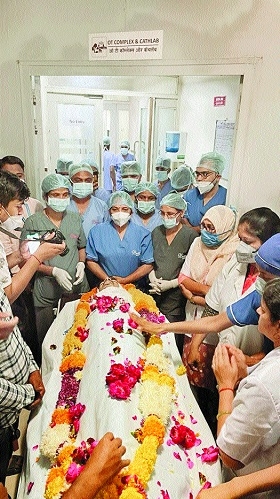 Family members and hospital staff paying last respect to
Tirth Shah.
No recipient for heart, lungs due to lack of registration National alert was sent for heart and lungs. National Organ and Tissue Transplant Organisation (NOTTO) allocates heart and duel lungs. Heart of Tirth was allocated to a 52-year old man at MGM Healthcare, Chennai. MGM Healthcare declined the heart offer as the recipient was not able to bear cost of the Charter flight. The heart was to be taken within four hours if transplant was to be done and chartered plane was the only solution to take the organ to the recipient. The transportation cost became the barrier in the young heart to be donated. Similarly duel lungs were alloted to a 47-year old man at KIMS Hospital, Secundrabad. But this offer also was refused on logistic reasons. Dr Vibhavari Dani and Dr Sanjay Kolte, President and Secretary of ZTCC expressed regret that the young organs could not be transplanted sans registration of recipients in Nagpur. Both while talking to 'The Hitavada', said, "As there are four registered heart transplant centres and one lung transplant centre in Nagpur Zone, they don't have the registrations. Had the registrations been there in Nagpur the young organs could have been transplanted benfitting the recipients. It was an emotional issue, and we must laud the parents who themselves came forward for the donation, but we failed to utilise the two organs of their young boy. It is unfortunate."