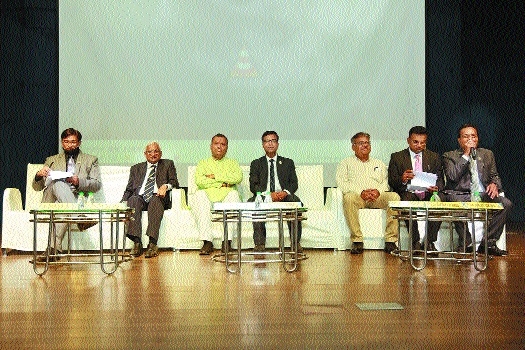 CA Jiten Saglani, CA Jaydeep Shah, Dayashankar Tiwari, Nagpur Mayor, CA Saket Bagdia, Chairman, Sunil Agrawal, CA Akshay Gulhane and CA Sanjay M Agrawal at the event.
Business Bureau :
NAGPUR Branch had recently organised a felicitation programme for newly qualified Chartered Accountants (CAs) to appreciate and motivate them for their achievements. On the occasion, Nagpur Mayor Dayashankar Tiwari was the chief guest and Sunil Agrawal, Past Deputy Mayor was the guest of honour. The programme was specially graced by CA Jaydeep Shah, Past President, ICAI. "CAs act as nervous system of Indian economy wherein they ensure smooth functioning of economic activities of this country and help in nation building," said Dayashankar Tiwari, Mayor while addressing the newly qualified CAs and their parents. He said, "CAs shoulder the responsibility of ensuring that the economic and financial system remains healthy. They are backbone of new, diversified and technologically upgraded reporting system of Government.
They take all inputs while making an informed decision and apply them to give proper output". Tiwari appreciated CA Saket Bagdia, Chairman of Nagpur Branch for works done by CA community during two years of COVID and said, "CAs especially from Nagpur, have earned laurels across the globe for their ability to deal with all sorts of challenges." Tiwari guided newly qualified CAs for their future endeavours. He mentored young CAs to be vigilant while accepting the work of clients and use the moral values while guiding the client. To quote the words of Prime Minister Narendra Modi, "Signature of CA is more powerful than that of PM", Sunil Agrawal, congratulated all the newly qualified CAs for getting proud prefix 'CA' before their names. He urged all CAs to ask their clients to apply their CSR expenditure for development of NMC projects and for the benefit of people of Nagpur. CA Jaydeep Shah, Past President ICAI urged the newly qualified CAs to be thorough in all their deeds and have clarity in expression of thought while delivering the services in their prospective assignments.
CA Julfesh Shah also motivated the members. "There is no short cut to success," said CA Saket Bagdia, Chairman of Nagpur Branch while congratulating the efforts of all the newly qualified CAs. "To be felicitated by their own Branch with their parents is indeed a moment of joy and pride." Various awards sponsored by CA Aniruddha Shenwai, CA Rajesh Agrawal, CA Charudutt Marathe, CA R M Shah, CA Julfesh Shah, CA Narayan Demble, and CA Ashwin Agrawal were given. CA Sanjay Agrawal, Secretary coordinated programme. Present were CAs Jitendra Saglani, Akshay Gulhane, Kirit Kalyani, Suren Duragkar, Ajit Gokarn, Deepak Jethwani and about 75 new CAs.