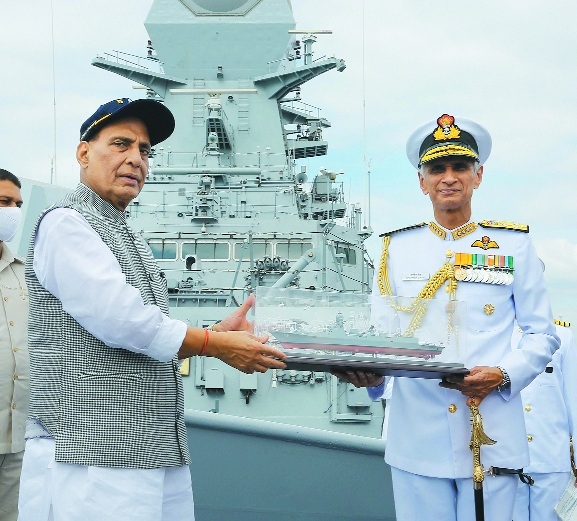 Defence Minister Rajnath Singh being presented a memento by Navy chief Admiral Karambir Singh (R) on board INS Visakhapatnam, the stealth guided-missile destroyer ships of Project 15B, during it's commissioning ceremony at the naval base in Mumbai on Sunday. (PTI)
MUMBAI :
INS Visakhapatnam has been formally commissioned into the Indian Navy in the presence of Union Defence Minister Rajnath Singh at the Naval Dockyard in Mumbai on Sunday. With the changing power dynamics in the Indian Ocean region, INS Visakhapatnam will augment the Indian Navy's mobility, reach and flexibility towards accomplishment of its tasks and goals, Singh said. The indigenously-built stealth guided missile destroyer, packed with an array of missiles and anti-submarine rockets, was commissioned in presence of top naval Commanders. Visakhapatnam is equipped with lethal weapons and sensors, including supersonic surface-to-surface and surface-to-air missiles, medium and short-range guns, anti-submarine rockets and advanced electronic warfare and communication suits, officials said. INS Visakhapatnam measures 163 metres in length and 17 metres in breadth with a displacement of 7,400 tonnes. The ship is propelled by four powerful gas turbines, in a Combined Gas and Gas (COGAG) configuration, capable of achieving speeds in excess of 30 knots. The ship is also packed with sophisticated state-of-the-art weapons and sensors such as surface-to-surface missile and surface-to-air missiles. It is fitted with a modern surveillance radar which provides target data to the gunnery weapon systems of the ship.
The anti-submarine warfare capabilities are provided by the indigenously developed rocket launchers, torpedo launchers and Anti-Submarine Warfare (ASW) helicopters. The ship is equipped to fight under Nuclear, Biological and Chemical (NBC) warfare conditions, officials said. Some of the major indigenised equipment/system onboard INS Visakhapatnam include Combat Management System, Rocket Launcher, Torpedo Tube Launcher, Integrated Platform Management System, Automated Power Management System, Foldable Hangar Doors, Helo Traversing system, Close-in Weapon System and the Bow mounted SONAR, an official said. Singh termed INS Visakhapatnam as a symbol of the growing maritime prowess of the country. Listing out the steps taken by the Government to give indigenisation a boost, Singh also urged to 'Make in India, Make for the World'. Admiral Karambir Singh, Chief of the Naval Staff, said the ship is a shining example of self-reliance. The Navy chief said 39 of the 41 ship and submarine orders have been given to Indian shipyards, which is a testament to their commitment for achieving self-reliance. INS Visakhapatnam is a P15B stealth-guided missile destroyer. It is indigenously-designed by the Indian Navy's in-house organisation Directorate of Naval Design and constructed by Mazagon Dock Shipbuilders Limited, Mumbai. "Our Navy's role is very important as India is a part of the Indo-Pacific route. Prime Minister Narendra Modi's policy of SAGAR embodies the same values.
We have every opportunity to build India an indigenous ship-building hub," the Defence Minister Rajnath Singh said at INS Visakhapatnam commissioning at Mumbai Dockyard. On this occasion, Singh praised the efforts of the Indian Navy in developing indigenous ships. "Indian Navy, in the field of indigenous ships and submarines manufacturing, has been on the front foot. We have to maintain the speed with which we're getting success. The Government is ready to help in whichever way possible," he said. Singh took a first glimpse of the warship and was informed about its features by Naval officers. He appreciated the self-reliance efforts of the Indian Navy, terming the Navy's order of 39 of the 41 ships and submarines from Indian shipyards as a testament to their commitment towards achieving 'Aatmanirbhar Bharat'. He added that the Indian Navy role is very important as India is a part of the Indo-Pacific route. India envisions a rule-based Indo-Pacific, with freedom of navigation, free trade and universal values, in which the interests of all the participating countries are protected, he added.
Taking a dig at China, Rajnath Singh said "some irresponsible nations" for the sake of their narrow partisan interests and hegemonic tendencies are coming up with inappropriate interpretations of the UN Convention on the Law of the Sea (UNCLOS). The UNCLOS 1982 specifies about any country's territorial waters, exclusive economic zone and good order at sea, he said. It is a matter of concern that UNCLOS is being repeatedly weakened by arbitrary interpretation of its definition by some nations, Singh said, after commissioning of Indian Navy's destroyer Visakhapatnam here. The event was marked by the presence of Chief of the Naval Staff Admiral Karambir Singh and other senior defence officers.