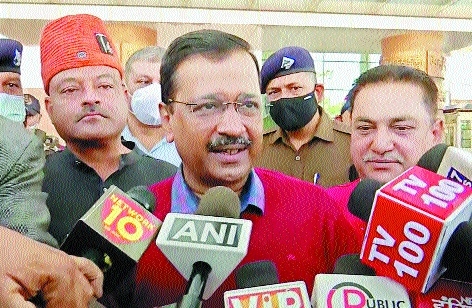 Delhi Chief Minister Arvind Kejriwal speaks to the media on his arrival at Jolly Grant airport, in Dehradun on Sunday. (ANI)
DEHRADUN :
DELHI Chief Minister Arvind Kejriwal on Sunday promised to introduce a free pilgrimage scheme for people of different communities in Uttarakhand if the Aam Aadmi Party comes to power in the State. Under the free pilgrimage scheme, Hindus will be sent to Ayodhya, Muslims to Ajmer Sharif and the Sikhs to Kartarpur Sahib, he announced at a press conference in Haridwar. "We have introduced a free pilgrimage scheme for the elderly in Delhi under which they are taken in the comfort of AC trains for free to 12 different pilgrimage destinations all over the country including Haridwar. Their food, lodging and stay is all free," the AAP national convener said.
As many as 36,000 people have already availed of the scheme so far, he said. Kejriwal said a train will start from Delhi on December 3 to take people to Ayodhya for free. "A similar free pilgrimage scheme for people in Uttarakhand will be introduced if we are voted to power in the state," Kejriwal said. "Hindus will be taken to Ayodhya under the scheme, Muslims to Ajmer Sharif and Sikhs to Kartarpur Sahib which was opened recently," the AAP leader said. Kejriwal asserted that the AAP is the first party in the country to focus on the problems faced by common people.