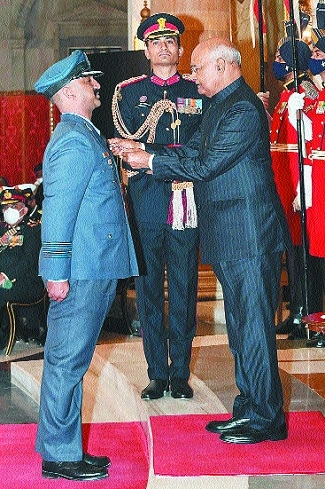 NEW DELHI :
GROUP Captain Abhinandan Varthaman, who downed an enemy jet during an aerial combat with Pakistan on February 27, 2019, was on Monday conferred with the Vir Chakra award by President Ram Nath Kovind for displaying an "exceptional sense of duty" during the dogfight. The award ceremony, held at the Rashtrapati Bhawan, was attended by Prime Minister Narendra Modi, Defence Minister Rajnath Singh and several other dignitaries. The President also conferred the Kirti Chakra award posthumously to sapper Prakash Jadhav of Rashtriya Rifles. The Shaurya Chakra awardees included Sepoy Karmdeo Oraon of the eighth battalion of the Bihar Regiment, Rifleman Ajveer Singh Chauhan of the sixth battalion of the Garhwal Rifles, Constable Zaker Hussain of the CRPF, J&K Police head constable Subash Chander and Sable Dnyaneshwar Shriram, a CRPF constable. J&K Police Sub Inspector Imran Hussain Tak conferred with Shaurya Chakra posthumously for killing a top terrorist commander and arresting another despite sustaining bullet injuries in Srinagar in 2017.
His wife Gulnaz Akhtar received the award. Sepoy Brajesh Kumar of Punjab Regiment of Indian Army accorded Shaurya Chakra posthumously for killing an A++ category terrorist during an operation in Jammu and Kashmir in 2018. His wife Shweta Kumari received the award. Lance Naik Sandeep Singh of the fourth battalion of the Parachute regiment, Brajesh Kumar of the Punjab Regiment and Sepoy Hari Singh of the Grenadiers have all been posthumously conferred with the Shaurya Chakra award. His wife Radha Bai received the award. Ashiq Husain Malik and Aman Kumar, both from the J&K Police have also been posthumously conferred with the Shaurya Chakra award. President Kovind, who is the Supreme Commander of the Armed Forces, conferred two Kirti Chakras, one Vir Chakra and 23 Shaurya Chakras to the personnel of Armed Forces and paramilitary forces in the first defence investiture ceremony on Monday.
"President Kovind presents Vir Chakra to Wing Commander (now Group Captain) Varthaman Abhinandan. He showed conspicuous courage, demonstrated gallantry in the face of the enemy while disregarding personal safety and displayed an exceptional sense of duty," the Rashtrapati Bhawan tweeted. Wing Commander Varthaman (now Group Captain) downed the Pakistani jet on February 27, 2019, before his MiG 21 Bison jet was hit. Pakistan launched retaliation against India for the Balakot airstrikes a day before.