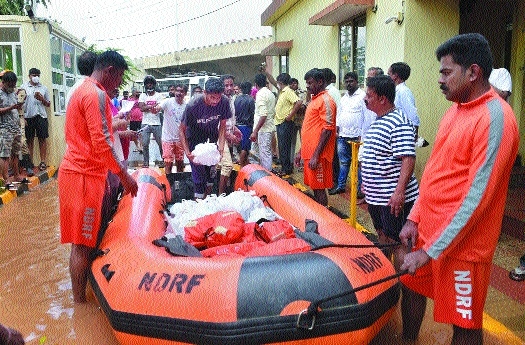 NDRF during a evacuation operation of the residents of Kendriya Vihar from a flooded area due to overnight rain and a breach of the adjacent Yelhanaka lake wall, in Bengaluru on Monday. (PTI)
BENGALURU :
KARNATAKA Chief Minister Basavaraj Bommai on Monday said Rs 500 crore will be released for repair of roads and bridges that have been damaged due to incessant rains and floods in different parts of the state and instructions have been issued for immediate disbursal of compensation for those whose houses have been damaged. "Rs 500 crore will be released for the repair of damaged roads and bridges, I have instructed immediate release of Rs 1 lakh (first instalment) to those whose houses have been fully damaged, and also to release money for those whose houses have been partially damaged," Bommai said.
Speaking to reporters here, he said the survey of crop loss is being taken on a war-footing and as and when the report gets uploaded to the designated app, compensation will be released. The Chief Minister will be travelling to rain affected parts of Kolar district and Hoskote in Bengaluru rural district, later in the day. In response to a question, he said the Election Commission has permitted Ministers of the concerned departments and the Chief Minister to travel across the state to take stock of the damage caused by rains and to oversee the relief measures.