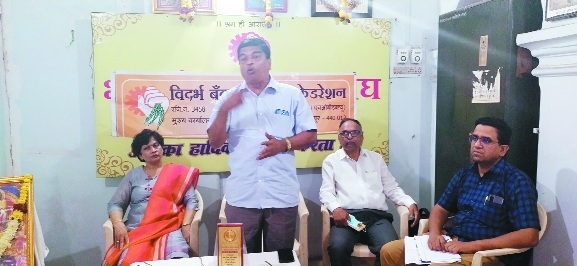 Ramnath Kini addressing the gathering. Also seen are Shilpa Deshpande, Chandrakant Khanzode and Amit Dhone.
Business Bureau :
VIDARBHA Bank Employees Federation (VBEF) organised a one-day executive meeting at Bharatiya Mazdoor Sangh (BMS) office, Congress Nagar. The meeting was graced by the chief guest Ramnath Kini, Incharge of Banking Sector of Bharatiya Mazdoor Sangh (BMS). Archana Sowani presided over the meeting while Shilpa Deshpande, President of BMS Vidarbha Pradesh, and Chandrakant Khanzode, Organising Secretary of National Organisation of Bank Workers (NOBW) were present. In his keynote address, Ramnath Kini said, "The Central Government is considering the privatisation of Bank of Maharashtra. NOBW strongly opposes the privatisation of any public sector bank including privatisation of Bank of Maharashtra." Last year on November 11, 2021 bank employees 11th Bipartite Settlement was signed, but so many issues were pending for approval by the Central Government.
"Even though the Central Government had approved the 30 per cent rise in family pension, but till date no arrears have been paid to family pensioners. There has been a huge increase in the health insurance premium for retired employees. NOBW opposes this and demands that the health premium be paid by the banks," he said. On September 27, 2021 employees of Bank of Maharashtra went on strike opposing the privatisation of the bank and demanded the quick recruitment of staff because current staff are facing problems due to acute shortage of staff, he said. Kini warned the Central Government about the decision to privatise the nationalised banks would be met with demonstrations to prevent privatisation and other demands. Chandrakant Khanzode, Organising Secretary of NOBW expressed the glorious history of VBEF which guided bank organisations to strengthen the struggle.
He urged Indian Banks' Association (IBA) and Central Government to update pension of bank employees as per Central Government retired employees and exclude health insurance premium from GST charges. Amit Dhone, General Secretary of VBEF and Nitin Borwankar anchored the full day meeting. President of Canara Bank Workers Union Tiwari proposed the vote of thanks. Representative from Yavatmal, Amravati, Chandrapur and Khamgaon were present. Ashok Bhutad, Suresh Chaudhary, Shyam Huddar, Arvind Bhimraokar, Tushar Patil, Prakash Mohitkar, Mahendra Bhisikar were also present in this meeting. Manoj Hokam, Vaibhav Kalyankari, Pinky Dongre, Ashish Karambhe worked hard for success of the meeting.