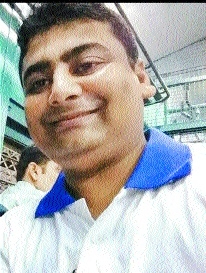 Ramtek Correspondent :
An engineer was killed after the beam on the pillars of an under-construction house at Ramtek collapsed on Wednesday. The incident took place near Ramtek railway station in the afternoon hours, police officials said. The deceased was identified as Prajolit alias Mintu Andharmule (41), a resident of Shastri Ward, Ramtek. According to police, the man was working as an engineer in Mumbai. He lost the job during the outbreak of novel coronavirus and returned to Ramtek with wife and children. Since then, he was staying in Ramtek. He bought a house from one Vinod Joshi recently and renovation work of the house was under process.
A police official said that a group of labourers was working on the under-construction slab of the house while Prajolit was supervising the work. A beam suddenly slipped from the pillars and fell on Prajolit. He was trapped under the beam and sustained grievous injuries. The labourers immediately rushed to rescue the young man who was screaming for help. After some time, the labourers managed to pull out Prajolit trapped under the beam and rushed him to the hospital. He was wheeled into an emergency ward where he breathed his last before getting medical aid. Ramtek police visited the spot and performed panchanama. A case of accidental death was registered by the police.