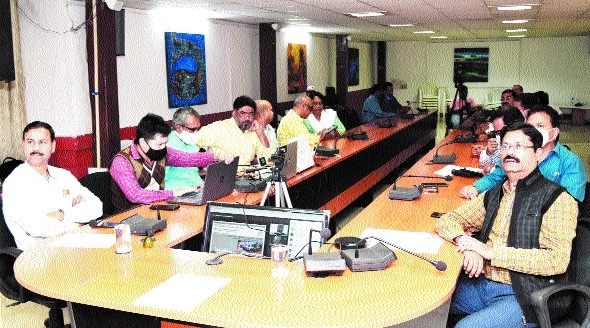 Architectural Practician, Urban Designer and trained educator Professor Tapan K Chakravarti delivering a lecture on Studies in Vernacular Literature at IGRMS in Bhopal on Wednesday.
Staff Reporter :
Indira Gandhi Rashtriya Manav Sangrahalaya (IGRMS), Bhopal, is organising a special lecture to mark World Heritage Day. Under the lecture series titled 'Himalayi Vastukala: Iski Bhavyata aur Mehetv', Professor Tapan K Chakravarti qualified and registered Architectural Practician, Urban Designer and trained educator presented a special lecture on topic 'Studies in Vernacular Architecture: Glimpses from Uttarakhand and Himachal Pradesh'. Director of IGRMS Dr P K Mishra presiding over the programme said that traditional technology is absolutely eco and weather friendly. There are three principal reasons to adopt modern technology and discard traditional ones, which are; Sources such as wood, stones etc which can be obtained from a specific area, Budget, as it always remain tight and durability. Introducing Professor Chakravarti, Dr Surya Kumar Pandey shed light on his accolades, mentioning that Professor Chakavarti has a long-standing experience of three decades in Urban designing and is an alumnus of Nottingham- Trent University.
He has participated in several forums across the country. Presenting lecture on the topic, Professor Chakravarti said that focus of Vernacular Architecture must be laid on issues pertaining to responses towards climate, terrain, materials, art and crafts etc whose details have been well-documented by individuals. He further informed that to know main typological differences and to identify and add simple style for construction, housing type of people of rural areas of Uttarakhand, Kumaon and Garhwal and some parts of Himachal Pradesh have been studied. Also temples, palaces and public places have been separated from it. The program was conducted by Assistant Keeper, Dr Surya Kumar Pandey and Museum Associate, Shrikant Gupta, proposed a vote of thanks.