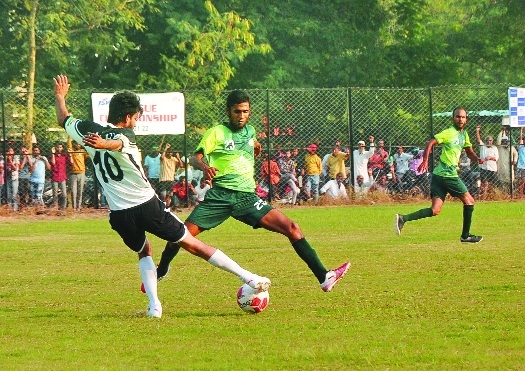 Principal Correspondent :
aFive-time champions start campaign with 4-1 win over Ansar Club
NOT for nothing Young Muslim Football Club (YMFC) are five-time league champions. With three 'professional' players in their ranks, the Mominpura based side fired the opening salvo as they thrashed bitter rivals Ansar Club, Kamptee 4-1 to start their campaign on the right note in the JSW-NDFA Elite Division League Championship at Bharat Ratna Dr BR Ambedkar Football Stadium in Suyog Nagar, north Nagpur. Enterprising striker Fahad Junaid was the star performer for YMFC as he scored one and assisted in a couple of other goals in the match which saw hundreds of their supporters cheering from behind the chained fence. YMFC did nothing wrong. The only blip in their resounding win was the yellow card to their coach Mohd Zahid who entered the field with physio Naim Ansari who had to attend injured Yash Shukla.
It was a bad start for Ansar coach Shyamal Ghosh who took over this season only. The renowned coach was not expecting a 4-1 hiding in his opening assignment after he helped MOIL XI promote to the Elite Division last season. It was a 'headstart' for YMFC as their star striker Fahad Junaid, the former player of the tournament, headed the perfect cross from midfielder Ahemad Wani in the 6th minute into the far corner of the net. Wani, who has been imported from Kashmir, was the cog in YMFC team as he played the feeder's role to perfection. Even before Ansar boys gather themselves from early shock, YMFC scored another within two minutes. Junaid collected the ball from the centre line from Wani and found gap between Ansar defence. He pierced a powerful grounder towards an unmarked Kamran Ansari and the left winger made no mistake in slotting the ball to the left corner of the post. Mumbai import Ansari scored his second and team's third goal in the 26th minute dismantling Ansar defence.
Dribbling past the defenders, Ansari also managed to beat goalkeeper Mohd Abdul Ahad to ensure a resounding win. Before the break, Ansar managed to pull one back through Mohd Rizwan after a barrage of attacks on YMFC post. Ansar were denied scoring opportunities by some agile work from YMFC goalkeeper Abdullah Ansari who made some acrobatic saves in entire match. Ansar were a much better side in the second half pushing hard in search of goal even as YMFC started playing a defensive game. But they were unlucky to score as their shots either missed the post by whisker or rebounded from the cross bar. In the meantime, YMFC increased the gulf with another goal in 67th minute through Hafiz-ur Rehman. It was again the clever work from Junaid who pushed the ball towards Wani from right flank. Wani diverted the ball to Rehman who smashed it to the left of the post from a half volley. On Thursday: SECR, Bilaspur vs MOIL XI at 2.30 pm.