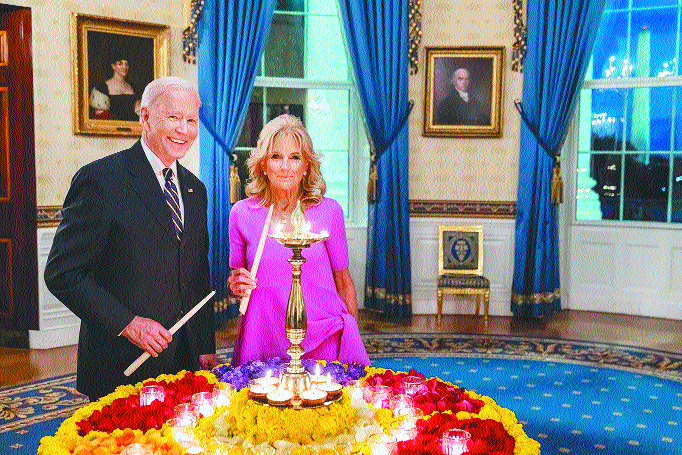 By Lalit K Jha
US PRESIDENT Joe Biden has sent Diwali greetings to the people across the world, saying, the festival of lights, amidst the pandemic, carries a deeper meaning and reminds everyone that from darkness there is knowledge, wisdom and truth. The President posted on Twitter a picture of him lighting diyas (earthen lamps) along with First Lady Jill Biden at the White House.
"May the light of Diwali remind us that from darkness there is knowledge, wisdom, and truth. From division, unity. From despair, hope. To Hindus, Sikhs, Jains, and Buddhists celebrating in America and around the world — from the People's House to yours, happy Diwali," he said in a tweet on Thursday.
In a joint statement, President Biden and First Lady Jill said, in the wake of the COVID-19 pandemic, this year's Diwali carries even a deeper meaning. "It is our honour to be the first President and First Lady to light a diya together in the White House to celebrate Diwali, the festival of lights that is observed by more than one billion Hindus, Jains, Sikhs, and Buddhists in the United States, India, and around the world," they said.
"Like many cherished holidays during the pandemic, we know this year's Diwali carries an even deeper meaning. To those who have lost loved ones, we hope this sacred time provides comfort and purpose in their memory," they said in the joint statement.
President Biden and Jill said they were grateful to those who celebrate in America for making the traditions of Diwali part of America's story.
"For generations, you have opened your homes and hearts during Diwali to exchange gifts and sweets, host feasts with family and friends, and organise cultural programmes in our communities – with prayers and dances, vibrant and colorful art, and sparklers and fireworks – that bring us all together.