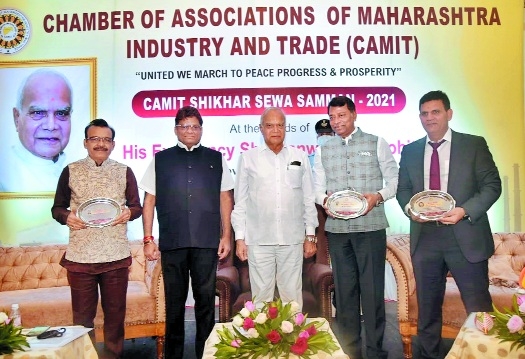 Punjab Governor Banwarilal Purohit with the award winners at the function on Saturday. (Pic by Satish Raut)
Business Bureau :
Governor of Punjab and Administrator of Chandigarh Banwarilal Purohit, felicitated Ramesh Jayaswal of NECO group; Gopal Agrawal of Sandesh group and Pyare Khan of Ashmi group with "CAMIT Shikhar Seva Samman 2021" award for their selfless contribution to society during the recent pandemic. The ceremony was organised by Chamber of Associations of Maharashtra Industry & Trade (CAMIT) at Chitnavis Centre on Saturday to acknowledge the exemplary services rendered by people during the recent Covid-19 pandemic. In his introductory remarks, Dipen Agrawal, President of CAMIT, said that even in the testing times, the honoured persons helped the citizens in need. During the second wave of covid-19 pandemic when there was paucity of oxygen, Ramesh Jaiswal made liquid oxygen available from his steel plant at Siltara, Chhattisgarh free of cost for the treatment of corona patients and Pyare Khan transported liquid oxygen from one city to another free of cost.
Gopal Agarwal, through R. Sandesh Foundation, had distributed ration and medical kits and food packets to needy during first and second wave of covid-19 pandemic. His organisation had created oxygen concentrator bank and provided oxygen concentrators to the needy without any charges. Purohit appreciated the efforts of CAMIT of acknowledging the efforts of such selfless people and displayed his strong belief that this will inspire many more citizens to join in situations of emergency and social distress. He also said that, it is laudable that the honoured perons did not even recover the cost of the goods and services provided by them and altruistically worked for mitigating the harm caused during the pandemic.