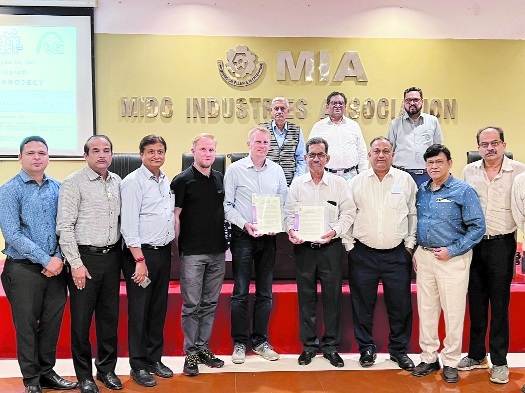 Business Bureau :
MIDC Industries Association (MIA) Hingna recently signed a memorandum of understanding (MoU) with The Training and Development Centers of the Bavarian Employers Associations (Bfz) Germany, which is one of the largest training providers in Germany for the Strengthening Industry-based Approaches for Dual Education and Training (SINADE) India project. The programme was held at MIA House and the MoU was executed in the presence of Dinesh Rai, Chairman, Alliance of Indian MSMEs and Former Secretary, Ministry of MSME, Government of India; P M Parlewar (IEDS), Director, MSME-DI Nagpur; Jens Kayser and Eric Santa Ana, Project Managers, International Division bfz/ bbw, Germany.
At the outset, all the dignitaries were welcomed by C G Shegaonkar, President-MIA Hingna. Shegaonkar explained in detail about the various advantages that this project will offer and also will help local industries and especially MSMEs to aim for internationalisation of their processes and products. This 18 months project will be funded by the German Federal Government via Ministry of Education and Scientific Research (BMBF). Dinesh Rai, who is a pioneer in implementing this project in India, in his address said that the SINADE project is going to provide huge scope to introduce and implement vocational training and education within the participating cluster companies as in-house processes embedded into the real value chain of the participating cluster companies in order to enable them to adopt and adapt new technologies and enhance their productivity and competitiveness. Parlewar said that this is a unique concept of dual education to be adopted by the industries by which Common Faculty Centres (CFCs) would be established and there will be no shortage of skilled manpower in the future for the local industries.
This is a pilot project and once it is successfully implemented, it may be replicated across India, Parlewar added and said that Government Industrial Training Institute (ITI) Nagpur will be working actively towards imparting the dual education-training. Jens Kayser informed industrialists present that an expert team from Bfz Germany will be visiting Nagpur in last week of December and assess requirement of local industries. Sachin Jain, Secretary, MIA Hingna, proposed the vote of thanks. Present were Praful Umare (IEDS), Assistant Director – MSME-DI Nagpur, Manish Jha from MSME-DI Nagpur, Nitin Lonkar, IPP-BMA, Shashikant Kotharkar, Secretary-BMA Nagpur, EC members of MIA Hingna Yogesh Kataria, V-P, Arun Lanjewar – Additional Secretary, P Mohan and Rajesh Ganorkar – EC Members, and industrialists of MIDC Hingna and Butibori.