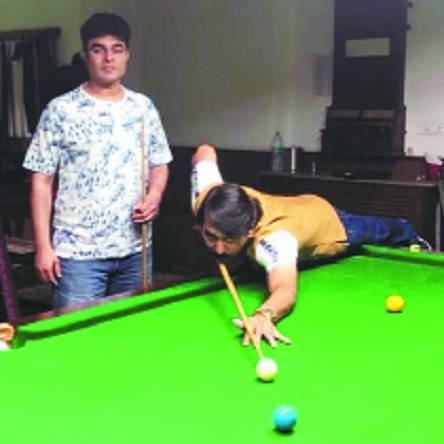 Parth Majumdar potting the ball as his partner Siddharth Samuel looks on.
Principal Correspondent :
THE pair of Jamashp Bapuna and Akshay Khetrapal defeated Lala Jaiswal and Bobby Jain to move up in the ongoing Late Shri Raibahadur Madhavlal Tulsidas Parikh Memorial Snicket Tournament being played at Gondwana Club. Scoring first, Bobby Jain and Lala could muster 65 points. Jamashp Bapuna and Akshay Khetrapal outbeat their score and clinched an easy win. In an another match played between Rajesh Thacker-Akshay Thakkar and Vaibhav Rai-Tarun Mohta, Rajesh and Akshay set forth a target of 49 which Vaibhav and Tarun conveniently achieved.
Parth Majumdar-Siddharth Samuel defeated Farookh Wazifdar-Pravin Golcha by 41 points. Parth and Siddharth scored 86 and their opponents succumbed at just 41. In the other match of the evening, Ujjwal Kothari-Raju Kamwani defeated Ashish Ahuja-Dhiraj Tutheja. Raju and Ujjwal were given a target of 94 by Ashish and Dhiraj and countering their score, Raju and Ujjwal had no difficulty in registered the win.