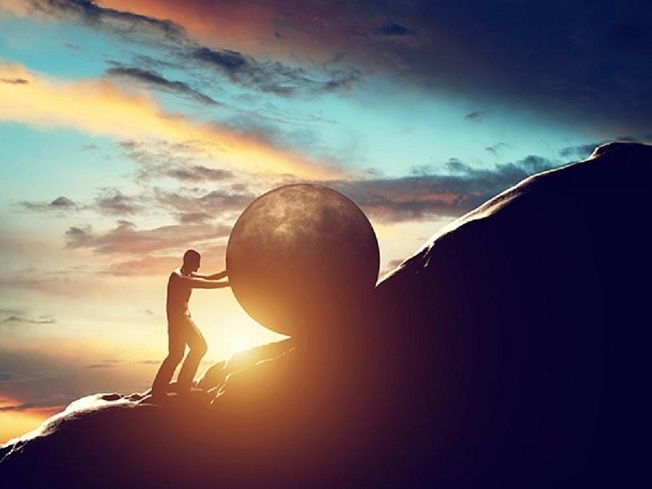 The senior partner called her up and asked her to present the case before the CEO of United Airlines, their coveted client. When she told the news to her parents, they were ecstatic. And the friends chipped in, "My, my! You are right there standing on the top pedestal; this defines your success. It's been a smooth ride for you." The down-to-earth, hard-worker stopped them right in their tracks, and in a no-nonsense tone stated, "First and foremost, I haven't reached my destination. To quote Robert Frost 'I still have many miles to go'. And second, and most importantly, it hasn't been a smooth ride. Do you not see a process in my journey that you deem as 'very successful'?"
Right she is! For no one, but she alone is aware of the toil, the sweat, the tears and the sheer hard work that took her where she is today. Which is true with everyone to whom the word 'successful' applies. Success comes at a price and it doesn't come overnight. It isn't quick, and believe it when people say it's extremely difficult. For, success is determined by many external and internal factors. Sometimes it could be education that costs a bomb, sometimes it's the failures that defy you time and again, the frustrations that one has to overcome, the internal strife whether one is treading the correct path, the umpteen sacrifices one has to make - all this is part of the process that takes one on the path to success. People, who in a very off-hand manner, talk about the success achieved at such a young age aren't aware of the birthday parties she missed when she had a race the next morning, or hanging out with friends at night because she had to appear for an entrance exam in a couple of days.
It must, I am sure, hurt like hell, and that too during the growing up years when friends are at the centre stage of a teenager's life. But the choice was entirely hers - of her own choosing. The parents had only spelt it out to her - told her about the two paths - and she chose what she thought was best. Being successful tests you to your core. Besides being focused, one also needs to have a lot of strength to walk on the chosen path. To quote Indra Nooyi, "To be successful you need to go through a lot of collateral damages and have the strength to power through all that." The collateral damages could sometimes affect the people closely associated with you, but mostly it is the fight with oneself - of whether to go on or to stop. What we choose then defines a part of the journey - being successful, thus is a result of cumulative effort. When Michael Jordan endorses products for billions of dollars, remember the years of grind that he went through before he picked up the pen to sign on the dotted line.
Hours and months and years of trials and errors, of conflicts, challenges and compromises have been dealt with before one can attribute the word 'success' to oneself. Remember instant gratification - the 'in thing' in today's times is just that - instant without having the power to have any long lasting impression or impact. Do not just see the end product - see the process that led to the result - of one's success! n