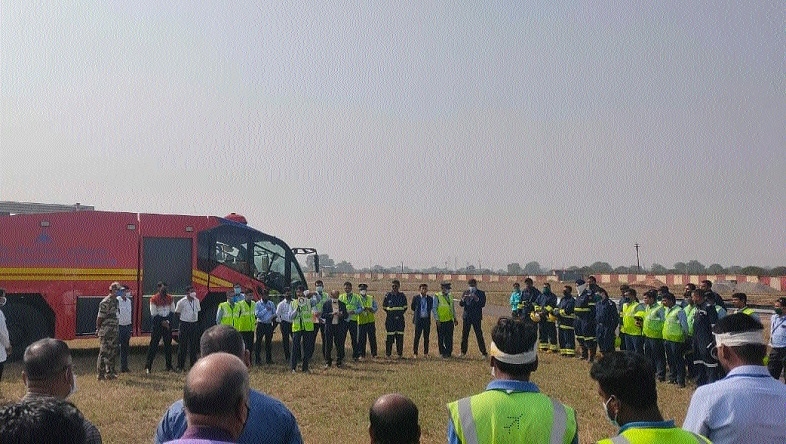 Staff Reporter :
Raipur,
The bi-annual aircraft crash and rescue exercise was held on Wednesday noon at Swami Vivekananda Airport (SVA), testing the airport's ability, intra-agencies synergy and response time to handle a situation of plane cash scenario. At the end of the exercise, SVA demonstrated successfully its capability and efficacy in responding to and then saving precious lives of air passengers caused by the mock crash of an aircraft, sources said. According to the sources, the bi-annual crash exercise is held every two years to the test real-time effectiveness of the airport authority, government departments and multiple other agencies involved in handling aircraft accidents, and to practice their intra- and inter-organisational emergency responses and communications.
More than 100 government departments and organisation like Airports Authority of India (AAI), Airports Fire Service, Air Traffic Control (ATC), Airport Operations, Security, Engineering, Communication and Navigation Services (CNS), Bureau of Civil Aviation Security (BCAS), Central Industrial Security Force (CISF), NHMMI Super Speciality Hospital, Government Hospital Mana, District Fire Brigade and other stakeholder agencies took part, the sources added. Sources further informed that Indigo Airlines was participating airline this, which availed one of its airport shuttle bus, to be used as mock aircraft for using a crashed plane simulation. "The exercise began at 11.40 am, when ATC sounded alarm that an Indigo flight, having caught fire on its left engine has crash landed in the 'undershoot area' of the airport. The ATC witnessed the crash and immediately activated the crash alarm, alerting relevant parties. The Airport Emergency Centre was also activated to facilitate close communications and effective coordination. Upon confirmation, a swift Airport Fire Contingent swung into action to rush towards the designated area of crash while concurrently, AAI authorities ensure that four ambulances were immediately pressed into service to rescues injured passengers," sources affirmed. As part of a full-scale disaster preparedness exercise, according to the sources, a total of 10 simulated deaths, 10 critically injured and 10 partly injured were reported.
"As part of the airport's medical response procedures, the critically injured were sent to nearby government-run and privately managed hospitals. Partly passengers were administered on spot first aid treatment. The whole mock exercise stood down at 12.30 noon followed by a debriefing session addressed by Raipur Airport Director Rakesh Ranjan Sahay, the sources added. Later, talking to The Hitavada on Wednesday noon, Airport Director Rakesh Ranjan Sahay said, "The bi-annual exercise provides a valuable opportunity for the whole airport community to test their readiness during an emergency. The active participation of multiple agencies together with the lessons and experience gained today will help us refine our contingency measures and better prepare us for future challenges," he asserted. "Safety is the airport's top priority at all times," Sahay continued "At SVA, we promote this by establishing guidelines, best practices, staff training, promotional campaigns and performance targets for the whole airport community. We also advocate work safety awareness among staff to prevent accidents caused by human acts."
It is pertinent here to recall that the mock crash exercise was carried out in compliance to multiple directives received from Directorate General of Civil Aviation (DGCA) which is a mandatory process for airport licensing requirements. SVA conducts several drills, exercises and training seminars every year covering various aspects of operational safety including emergency responses for aircraft accidents and security incidents, as well as business continuity responses for situations such as adverse weather, severe flight disruptions, land transportation disruptions, radioactive hazard, and public health/ infectious disease scenarios.