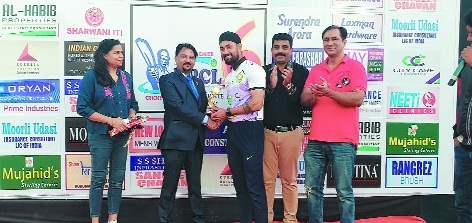 Amandeep Singh (C) receiving man of the match award from Vikas Kolhekar as others look on.
Principal Correspondent :
Sansui XI, Sai Baba XI and Star Warriors Amravati stormed into the quarter-finals winning their respective matches of the ongoing Royal Premier Cricket League organised by Royal Cricket Association at Mecosabagh ground. Sansui XI beat Mangalmurti XI by six wickets to make it to the last eight. Mangalmurti XI posted 67 runs with opener Satyam Lute top scoring with 17 runs. Aditya Pandav scored 15 runs. For Sansui XI, Salim Khan was the most successful bowler with four wickets while Dinesh Ganorkar took three and Pratik Talekar two. In reply, Sansui XI achieved the target losing four wickets. Umesh Pal hit 14-ball 34 while Ganorkar scored 12 and Nil Vishwakarma added 10. Vishwas Sahare, Afsar Khan and Ravi Jangid took a wicket each. In another match, Fit For Life scored 78 runs which Sai Baba XI scored in 5.2 overs losing two wickets.
Jay Ganvir scored 21 for Fit For Life and Honey Tekchandani scored 12. For Sai Baba XI, Amandeep Singh and Kunal Gawali took two wickets each. For Sai Baba XI, Sumit Singh Rajput scored 34 from 18 balls while Amandeep hit 31 runs. Amandeep was declared man of the match. Vikas Kolhekar was the chief guest of the evening. In another match, Star Warriors Amravati defeated Manali Brothers by eight runs. Amravati scored 88-5 in eight overs with Ajju Deshmukh hitting 33 from 14 balls. Ajinkya Deshmukh and Amir Parvez scored 12 each. For Manali Bros, Kunal Sawarkar took two wickets. But they were restricted at 81 runs only. Sawarkar hit 57 from 25 balls but it went in vain. The final will be played on Tuesday evening.