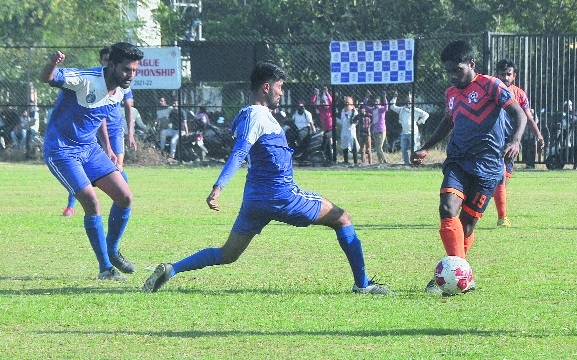 Principal Correspondent :
Defending champions' Rahul Sankrutyayan Sports Association's forward Badal Soren scored a brace as they blanked bottom-placed Big Ben FC 3-0 in the JSW-NDFA Elite Division League Championship on Monday. Vasu Kanojiya put Rahul SSA ahead in 70th minute scoring from a solo effort. Soren then scored his first of two goals. His first goal (76th) and team's second was the 100th of the tournament this season. Soren shot a long ranger from around 30-yard which went into the net. He scored again in the 83rd minute to give Rahul SSA a 3-0 win. Still, Rahul are out of the qualifying bracket sitting at the fifth spot.
Only top four teams will make it to the Super League. YMFC leads the pack with 16 points followed by Ansar Club at the second spot with 15 points. Nagpur Academy are at the third spot with 10 points while surprise package Manganese Ore India Limited (MOIL XI) are at the fourth spot with nine points after six games. On Tuesday: SECR vs Nagpur Blues at 2.30 pm at Kalmeshwar.