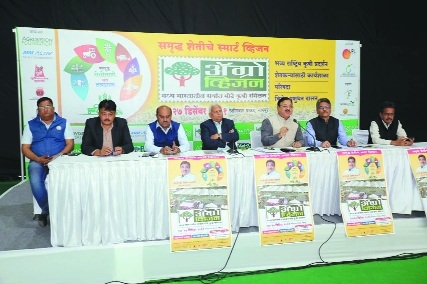 Ravi Boratkar addressing the press meet while others are seen.
Business Bureau :
Envisioned by Union Minister Nitin Gadkari the largest Agriculture summit of Central India Agro Vision is all set to start from December 24 at Reshimbag Ground, Nagpur. Agrovision aims to bring latest information on new technology, allied businesses to farmers so that they can increase their income and enjoy profitable farming. The preparation for this extravagant event that comprise of National Agriculture Exhibition, workshops for framers, day long seminars is nearing completion.
The inauguration of Agro Vision will be done at 11 am on December 24 in presence of Chief Promoter of Agro Vision and Union Minister for Road Transportation and Highways Nitin Gadkari and at the hands of Union Minister for Agriculture and Farmer Welfare Narendra Singh Tomar. Union Minister for Animal Husbandry, Fishery and Dairy Purushottam Rupala, Leader of Opposition of Maharashtra Legislative Assembly Devendra Fadnavis, Information Technology, Higher Education, Science and Technology Minister of Karnataka, Ashwath Narayan CN and Union Minister of State for Fertilizer, Chemicals, New and Renewable Energy Bhagwanth Khuba will be present at the inaugural ceremony. This was informed at the press conference held on Tuesday. Convener of Agro Vision Girish Gandhi, Organising Secretary Ramesh Mankar, Ravi Boratkar and President of Agro Vision Consulting Committee Dr C D Mayee, Agrovision Foundation Members Sudhir Dive, Samay Bansod, Prashant Kukde, Dr Sunil Sahatpure, Anandrao Raut were present at the press conference. For the exhibition domes, nine thousand square meter space is being occupied.