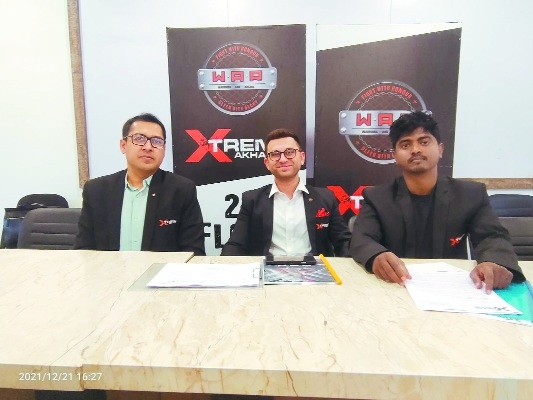 Vishesh Agarwal (L), Rohit Buty (C) and Deepak Udair during a press conference on Tuesday.
Principal Correspondent :
XTREME Akhaada, started by two businessmen of Nagpur Rohit Buty and Vishesh Agarwal, who are also Mixed Martial Art professionals, will be organising its second MMA Fight Night Warriors and Ragers "WAR 2.0" on December 25. Addressing a press conference, Buty, one of the organisers, said the event will be held at Nimbus 9, Bokhara Village, Koradi Road on December 25.
"This will be the second event after we hosted the first one in the city. Twenty-six Mixed Martial Art professional fighters from Mumbai, Kolkata, Pune, Goa and Nagpur will be taking part in the competition," informed Buty. The one-day event will begin at 7 pm on coming Saturday and top finishers from different weight categories will qualify for next round. Agarwal said the next round event will be held in cities like Pune, Raipur, Goa and finals will most probably be held in Nagpur. Taekwon-do black belt holder Deepak Udair was also present during the presser.