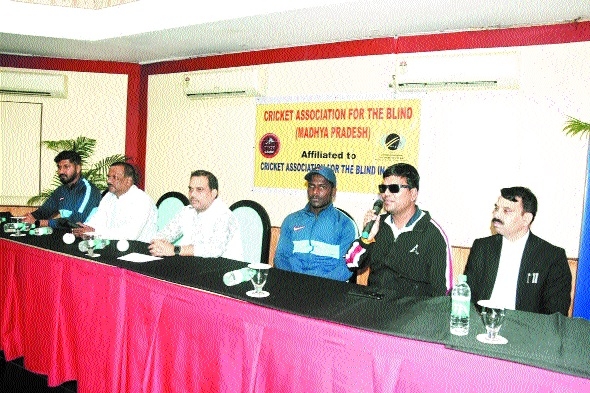 President of Cricket Association for Blind in India Dr Mahantesh G Kivadasannavar along with other dignitaries of CABI during the announcement of Indian squad for the bilateral cricket series to be played against Bangladesh.
Staff Reporter :
The Cricket Association for Blind in India (CABI) on Wednesday announced the 14-member Indian squad for the upcoming 3 One-day International series and 3 T20 bilateral series slated to be played against Bangladesh. Notably, the series will begin on upcoming Friday to continue till Wednesday. India will play 3 T20's & 3 ODI's against Bangladesh in Bhopal at Faith Cricket Club from Friday until Wednesday.
This is the first ever Bilateral Series against Bangladesh, to be played in India. Also, this is the first International Tournament for the Indian team playing in India post Covid-19. President of CABI, Dr Mahantesh G Kivadasannavar, stated on the occasion that we are feeling quite excited to witness the matches. Blind Cricket is a manifestation of excellent human spirit and an instinct to perform, regardless of disabilities. The passion with which all the Blind players play the sport is amazing and true spirited.