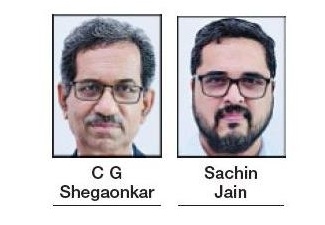 Business Bureau :
THERE are a large number of long pending issues at MIDC Hingna Industrial Area that needs proper solution and if addressed properly will help in growth of the local industrial sector, said C G Shegaonkar, President, MIDC Industries Association (MIA) Hingna, Nagpur. Listing some of the major problems, he said that MIDC Hingna Industrial Area is dependent on the adjoining Ambazari lake for drinking as well as industrial use of water. A few incidents and studies suggested that the lake water is polluted leading to degradation of water quality and making it unpotable. To have a potable water, it is necessary for MIDC to tap it from the NMC water source. This will ease the woes of the industrial area by considering the health of around 50,000 workforce working in MIDC Hingna. "Absence of sewage line and garbage handling system is an issue of serious concern and owing to the absence, there is rampant garbage dumping and burning at various places in MIDC Hingna Industrial Area," he noted.
All human waste is dumped in septic tanks which require manual/mechanical cleaning periodically. Additionally, there is no area marked for the suction vehicle to dump the waste. MIDC should plan and develop for sewage line along with developmental activities they undertake, he said. A proper garbage collection, segregation, treatment and disposal system for MIDC Hingna Industrial Area has been a long-standing demand and is very much needed on priority. The dumping of garbage on open plots and in nullahs is an open invitation for diseases to spread. Keeping in line with nation's clarion call of 'Swacchha Bharat Abhiyaan', the issue should be strictly addressed, he said. Apart from this, MIDC along with other concerned stakeholders should appoint a dedicated agency and the process for the same should start at the earliest with active support and participation from all. Strict rules and guidelines should be implemented and fines enforced, so that this model is success in the long run and the MIDC Hingna Industrial Area and its employees, residents and environment remains healthy and the surroundings clean.
Due to continuous wear and tear and abundant rains, the condition of roads in MIDC Hingna have got degraded with time. This road stretch also known as Hingna-Wadi link road serves as a connecting road to two major roads and is heavily used by industries and other commuters. Although last year NHAI through PWD held various meetings with MIDC and industrial associations for a proposed cement road in this stretch but work hasn't even started and now it seems there are revised plans for tarring instead of concretising the road. "The road is in a very poor condition and there are potholes and uneven layers of road in the entire stretch making it extremely difficult and risky for road commuters. MIDC alongwith PWD or NHAI should take strict cognisance and initiate the process for not only repairing but a well-laid road for the ease of commuters," he pointed out. "It is now high time that these basic needs and long pending demands are addressed and resolved which will help in an inclusive growth of the industrial area", said C G Shegaonkar, President of MIA Hingna and Sachin Jain, Secretary MIDC Industries Association (MIA) Hingna Nagpur.