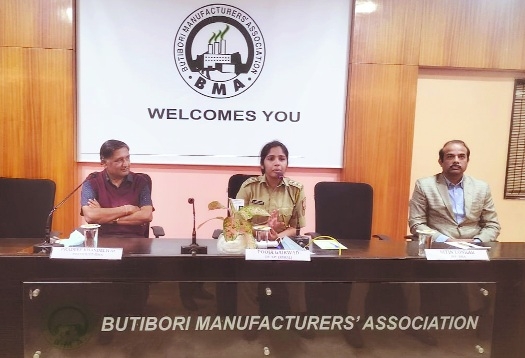 Dy SP Pooja Gaikwad addressing the gathering. Also seen are Pradeep Khandelwal and Nitin Lonkar.
Business Bureau :
BUTIBORI Manufacturers Association (BMA) recently organised a programme to welcome the new Deputy Superintendent of Police (SP) Pooja Gaikwad as she joined her first posting in Butibori after her probation. Gaikwad was accompanied by her team members Vinod Thakare, Police Inspector (PI) of Butibori MIDC Police Station and Anil Kokate, PI of Butibori Town Police Station. The interactive meeting was attended by industrialists and HR heads of large industries. Gaikwad informed that last year 60 fatal accidents had occurred in the area. She proactively discussed ways to reduce road accidents and suggested novel ideas to reduce fatal accidents. She stressed that helmet wearing was most important in preventing serious injuries.
On the occasion, BMA expressed a desire to donate 25 helmets to Police which will be distributed to needy riders. CCTV cameras are being planned to be installed through the initiative of Dy SP Gaikwad at major traffic areas of Butibori. She has also committed to increase police presence on all roads so that theft and rash driving can be controlled. PI Thakare has been recently transferred to Akola. The entire BMA community thanked him for his service for past three years. The meeting has built cordial relations between Police and local industries and both are committed to create a safe and peaceful Butibori for all workers and residents. The meet was organised under the leadership of BMA President Pradeep Khandelwal. Secretary Shashikant Kotharkar, IPP Nitin Lonkar and other EC members were present.