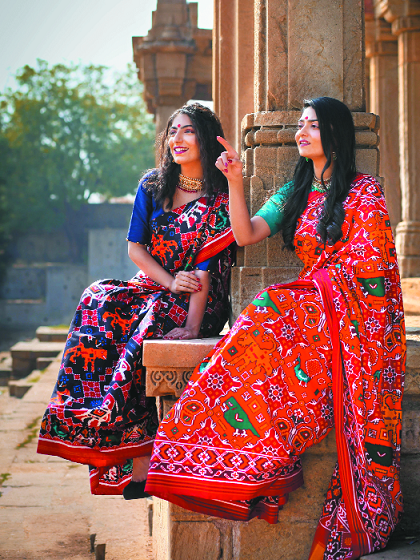 THE exhibition of Vijaybhai Patolawala was off to an exhilarating start with crowd of customers bee-lining at every stall in Patrakar (Press) Club of Nagpur on Thursday.
The three-day exhibition will remain open for customers from 10 am to 8 pm from December 23 to 25, 2021. Vijaybhai owner of the expo lighted the lamps in the opening ceremony. There are at least 50 varieties of sarees, Bandhej, Banarasi, suits, dupatte, tops and dress material available.
From beautiful to intricately designed, the exhibition has sarees with price range starting from Rs 6,000 to all the way up to Rs 1.09 lakh. Kurti, tops, suit varieties are all top-notch. Handkerchiefs which could be used for religious purpose as well as muffler, are available for Rs 2,000. Never before seen silk purse with pearls are available in three different varieties from Rs 2,500 to Rs 5,000.
People buy Patola sarees like hot cake just by hearing the brand name. There is also an unmatched collection of handloom in the exhibition. Wedding collection is one of the main attractions with complete range of wedding clothes to pick from. It is to be noted that clothes of Vijaybhai Patolawala are known for their high quality, variety, workmanship and beauty in the country.
For more details, interested may visit the exhibition on its second and last day. For more details contact (M: 8599000070).