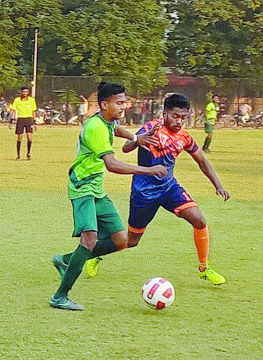 ZISHAN Akhtar scored twice, once in each half as Ansar Sporting Club drubbed defending champions Rahul Sankrutyayan Sports Association 4-0 in the ongoing JSW-NDFA Elite Division League Championship at NDFA Stadium in Suyog Nagar on Friday.
Zishan (32nd, 78th) was assisted by centre forward Sohrabh Akhtar (47th) and Touseeque Ansari (90th) as the Kamptee outfit completed the rout.
The champions could not make a mark on the scoresheet. To their credit, Rahul were able to restrict the damage to a lone goal in the first half.
After fighting hard for over half an hour, Zishan was provided with a good cross by Sohrabh and the former made it count for a one nil lead. The score remained so till the breather.
After change of ends, Sohrabh displayed his dribbling skills and dodged a couple of rival defenders to shoot one past the goalkeeper to increase the lead.
The understanding between Sohrabh and Zishan was on display again as the duo combined for yet another goal. Zishan did not miss out on an accurate Sohrabh pass.
In the dying minutes of play, Alfaiz fed a good ball to Touseeque who dribbled past defenders to shoot the final goal.
Six players were cautioned during the match. There were five yellow and one red card.
Ansar's Mohammad Rizwan (34th), Md Shabab (41st) and Fuzail Pasha (90th), while Rahul's Rahul Neware (55th), Anurag Solanki (58th) and Sagar Chintala (red card 90th min) were found indulging in foul play.
On Saturday: MOIL XI vs Big Ben at 2.30 pm.