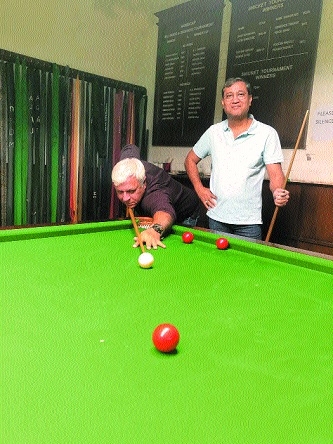 Kunal Mehta (L) is a picture of
concentration while partner Sameer Bhartia is all smiles.
Sports Reporter :
IN A close contest, the pair of, Mahesh Hirani and Sanjay Arora edged past the combination of Pradeep Agrawal and Anil Goenka in the ongoing Shri Raibahadur Madhavlal Tulsidas Parikh Memorial Snicket Tournament at Gondwana Club on Monday evening. Hirani-Arora recorded a close three runs win over Agrawal-Goenka with scores reading 78-75. In an other match of the evening, Ujwal Kothari and Raju Kamwani displayed their potting skills in their comfortable victory over Babloo Khemka and Prakash Naidu. The final scores read 116-88.