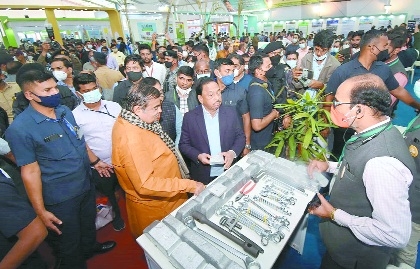 Union Minister Narayan Rane, Union Minister Nitin Gadkari and others at the Agro Vision Expo on Monday.
Business Bureau :
Four-day Agro Vision expo concludes
Union Minister Nitin Gadkari announced that the country's first agro convention centre is being set up in Nagpur. He was speaking at the concluding ceremony of Agro Vision at the Kavivarya Suresh Bhat Hall here on Monday. MP Ramdas Tadas, Vice Chancellor of MAFSU Dr Ashish Paturkar, former MLA Pasha Patel, former MLA Prof. Anil Sole, Chairman, Agro Vision Advisory Committee Dr C D Mayee, Convener Girish Gandhi, Organising Secretary Ravi Boratkar, Ramesh Mankar, Rajesh Bagdi and others were present. Gadkari further said that the convention centre is being set up on the site of Krishi Vidyapeeth near Futala Lake to provide information to farmers about crops. "The project report of the facility is ready and will be submitted in 15 days," he said. Gadkari hoped that it would be an information resource for the entire country. In addition, he said that efforts are being made to identify space near on Wardha road so that Agro Vision can be a regular feature.
Apart from this, land is being purchased by Agro Vision Trust wherein year round training could be conducted for farmers. There will also be a permanent market for organic agricultural products. He hoped that together all could realize the dream of a happy, prosperous farmer. Vehicles with flex engines running on ethanol will soon hit the market. A Government order has also been issued in this regard. A meeting of representatives of automakers will also be held soon. The vehicles will be available for sale in three to six months, said Gadkari. Drones will be used for spraying soon. He also said that 50 lakh youth will get employment due to this. MP Ramdas Kadam said that agriculture is a profitable business but new experiments are need of hour.
"Agro Vision is an initiative for the benefit of the farmers and it definitely helps the farmers," he said. Renuka Deshkar conducted the proceedings of the concluding ceremony while Ramesh Mankar proposed the formal vote of thanks. Earlier, Union Minister for Micro, Small and Medium Enterprises Narayan Rane also visited the expo and attended one workshop at the Agro Vision. He also visited some of the stalls and shown interests in the products put on display. On the occasion, he said that the country's farmers need proper and effective marketing platforms to sell their agriculture produce. Rane further stressed on innovation in the farming sector for improving farmers income.