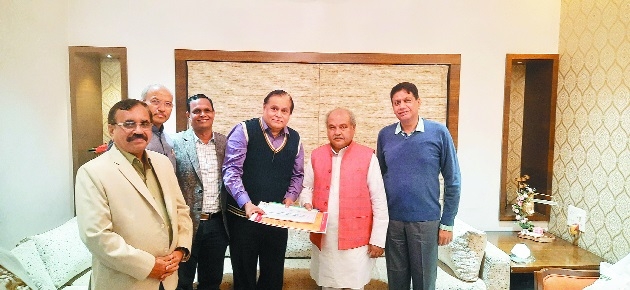 Business Bureau :
Highlighting the need and potential for textile industry in the cotton-rich Vidarbha region, the Vidarbha Economic Development Council (VED) recently urged the Union Agriculture Minister Narendra Singh Tomar to set up Integrated Textile Park here. As the Central Government has recently announced that a scheme to build seven mega textile parks over five years in different parts of the country, a delegation of VED office-bearers discussed the feasibility of the project in Vidarbha and said that it would be a game-changer for the regional economy. Past President of VED Council Devendra Parekh led the delegation which met the Union Agriculture Minister during his recent visit to the city. Vice- President of VED Pradeep Maheshwari and Pankaj Mahajan and Treasurer Navin Malewar were also present on the occasion.
The delegation said that cotton is one of the main crop of the farmers in the region and the Vidarbha's economy is largly dependent on the crop. Parekh gave the Union Minister a brief idea about the VED Council and its continous initiatives for the development of Vidarbha region. At the same time, Pradeep Maheshwari, Vice-President of VED Council, detailed on the prospects of Refinery Petrochemical Complex in Vidarbha. He told Tomar how Vidarbha and surrounding districts of Madhya Pradresh will get benefited by the refinery. "Textiles and petro chemicals - both forex generating sectors - if planned in Vidarbha, it will prove very beneficial to all the stake holders," he pointed out elaborating on the various technical and economic issues associated with the projects. "The project will attract a large number of industries in Vidarbha and help generate huge employment opportunities.
Petrochemicals will further boost the industrial growth in the region. We can see arrival of new industries in Vidarbha if we get this much required refinery-cum-petrochemical complex," he added. He also gave him a copy of presentation on irrigation and explained the minister the current scenario of power distribution to the farmers and how it could be made further effective. Maheshwari also requested the Minister to allot time for presentation to Niti Aayog. Narendra Singh Tomar gave a patient hearing to the issues and assured his support and ensured that the suggestions would reach to a valid conclusion. Rajya Sabha MP Vikas Mahatme, who also accompanied the delegation, also stressed on the need for these 'growth engines'.