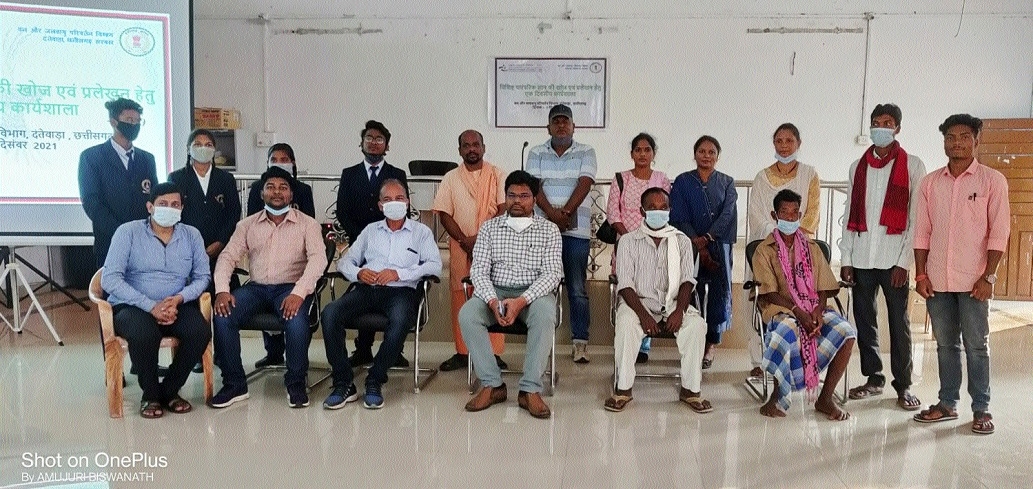 Participants during the workshop on medicinal plants.
Staff Reporter :
Dantewada/Raipur,
A one-day workshop on discovery and documentation of specific medicinal traditional knowledge was organised by the National Innovation Foundation-India, Department of Science and Technology, Government of India in collaboration with the Forest and Climate Change Department, Dantewada, Government of Chhattisgarh at Forest Depot, Dantewada. The programme was co-ordinated with the special cooperation of Dantewada Divisional Forest Officer Sandeep Balaga and Research Officer of National Innovation Foundation Bhubaneswar, Rahul Prakash. National Innovation Foundation East India Coordinator and Senior Innovation Officer Dr Vivek Kumar, through video conference, said that the foundation promotes people who work and serve at the grassroots level with traditional knowledge and help them get recognition from Government of India.
Research Officer, National Innovation Foundation Bhubaneswar Rahul Prakash conducted the workshop and gave training on collection and documentation of medicinal species of plants. The photo exhibition of different types of trees, plants, herbs was inspected by Divisional Forest Officer Dantewada Sandeep Balaga. Ayurvedic expert Dr J D Panda and Deputy Forest Ranger Dantewada K Raju said that the government should plan to plant more medicinal plants. In the workshop, teacher of Aastha Vidya Mandir, Jawanga and Director of Green Care Society India Amujuri Bishwanath also expressed their views.
Lavchand Nag requested the government and administration to conserve medicinal plants and plant more saplings. Swami Prem Swaroopanand of Gumargunda Ashram shared about local traditional knowledge of herbs available in Dantewada and Bastar region. National Innovation Foundation associates Jadav Chandra Jani and many herbal experts from Barsoor, Katekalyan, Badegudra, Hiranar, Kuakonda, Gumragunda, Dantewada, Environmentalists, students and Forest Department employees were present in this workshop.