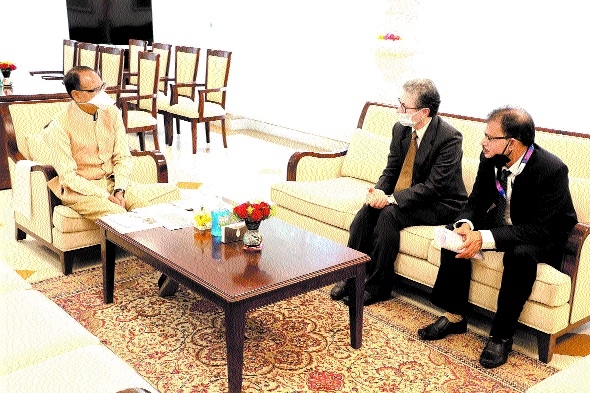 Chief Minister Shivraj Singh Chouhan meeting CGM of SBI (MP-CG) Umesh Pandey on Wednesday.
Staff Reporter :
Chief General Manager of State Bank of India (Madhya Pradesh-Chhattisgarh) Umesh Pandey met Chief Minister Shivraj Singh Chouhan on Wednesday. Chief Minister asked him for prompt approval of loan schemes implemented for street vendors. Various public welfare schemes specifically, Swanidhi Scheme, also known as the Pradhan Mantri Street Vendors Atmanirbhar Nidhi, was discussed in detail. Talks were also held about approval of Chief Minister Rural Street Vendors Scheme and implementation of scheme.
CM said that status of disbursement of amount under scheme will be reviewed in detail in next meeting of the State-level Bankers Committee. He said that this is a scheme for welfare of poor. Small traders, who do small-scale trade in cities and villages on roadside by setting up kiosk or by handcart, should be given easy loan assistance; efforts should be made to increase this.
At present, complaints of delay in approval of such cases have been received from some districts. Needy people doing small-scale business should get loan amount easily, this effort should be made at bank branch level. Along with this, joint efforts should be made at the Government and bank level so that the loan given to these beneficiaries is also repaid. He said that small scale traders are generally not aware of technical aspects of bank loan, hence their difficulties should be solved at bank level.
Chief General Manager Umesh Pandey assured Chief Minister that it will be ensured that this work is not delayed. All the bank branches have been directed by State Bank of India headquarters for immediate approval of small business loan schemes. State Bank of India is committed to the welfare of the poor. Rajesh Saxena, General Manager of State Bank of India, was also present in the meeting.