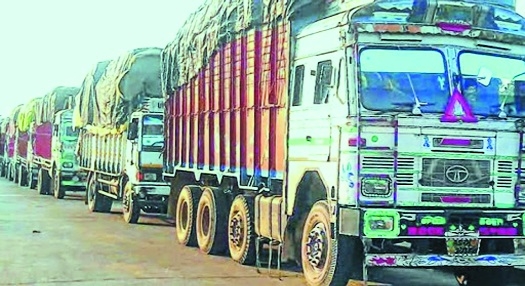 Business Bureau :
Petrol is being sold at Rs 94.62 per litre and diesel at Rs 85.18 per litre in the city on Wednesday
Transporters are facing the heat of the continuos hike in petrol and diesel prices. A meeting in this regard was convened by the Kuku Marwaha, President of Nagpur Truckers Unity. The hike is petrol and diesel prices have forced several industrial units to down their shutters. This has directly affected the movement of truckers in the country. Marwaha said, Government has given concession to the oil marketing companies which is being opposed by Nagpur Truckers Unity. With the inflationary trend in the petrol and diesel prices, the black marketing of kerosene oil has increased manifold, he alleged. The people who used to get kerosene oil in the price bracket of Rs 25 to Rs 30 per litre are being forced to purchase it at Rs 60 to Rs 65 per litre.
The inflation is directly proportional to the hike in prices of petrol and diesel. Today, the present prices of crude oil is 60 dollar per barrel, then also the petrol is being sold at Rs 94.62 per litre and diesel at Rs 85.18 per litre. Marwaha said, 10 years back, the raw crude was in the range of Rs 135 to Rs 140 per barrel and petrol was Rs 45. However, presently, the raw crude has slipped to Rs 60 per barrel. Then also the prices of diesel and petrol are quoted at higher side. The truck freight has came down drastically. "In such situation, it is not possible for truck owners to withstand the circumstances.
Even common public is facing the burnt of inflation," he said. Central Government should reduce the subsidy of kerosene. The kerosene oil which should be easily available to the people is being sold in the black market by anti-social element. "In the transport business, truck owners are first paying the taxes before moving their vehicles on road," he said. Presently, if the goods does not reach to their respective destination, then truck owners are not paid their freight on time which ultimately puts them into difficult situation. "We are reeling under tremendous pressure due to hike in insurance and increasing prices of tyres," Marwaha said. He demanded to the Central Government that petrol and diesel should be brought under the ambit of Goods and Services Tax (GST) so that the prices will be reduced. "This will give huge relief to people and transporters," he said. He said those who have indulged into the adulteration of petrol and diesel should get severe punishment.
Post lockdown, the condition of transporters have become pathetic. In the span of two months, diesel prices have increased by Rs 18 to Rs 20 and petrol by Rs 18 to Rs 20. With fall in the prices of raw crude per barrel, the prices of diesel should be Rs 40 and petrol Rs 50 per litre. "We are facing untold hardship due to hike in the petro products, insurance and tyres," Marwaha said. He said, if a truck is immobile, it is not possible for the truck owners to pay an installment of Rs 1 lakh to Rs 1.5 lakh. He said, "Finance companies are also not understanding the problem of transporters. They are frequently pulling up transporters if their installment is not paid within the prescribed time." Finance companies are seizing trucks of transporters. "In such situation, how will run our business," he said. He threatened that if the prices of diesel and petrol are not reduced, transporters will go on strike and resort to 'Chakka Jam."