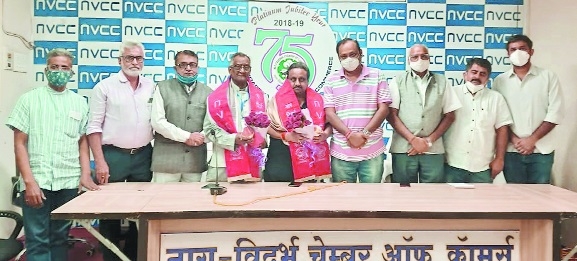 Business Bureau :
As Government is emphasising on using digitalisation for the past few years, drastic technological changes are taking place and therefore traders would have to adopt digitalisation in a bigger way for growth said, Praveen Khandelwal, Secretary General of CAIT at the Nag Vidarbha Chamber of Commerce (NVCC). He said, with the changing times, traders will have to operate their business using both traditional methods and digitalisation. In the future, the latest technology and digitalisation will be used extensively.
Embracing technology and digitalisation will make traders stay competitive in the market and streamline their operations with customers and Government departments. On the occasion, B C Bhartia, National President of CAIT and Praveen Khandelwal were felicitated by offering them bouquet, shawl and shreefal. Ashwin Mehadia, President of NVCC welcomed the guests and informed them about the activities of the Chamber. Mehadia said, Government is focusing on traders to embrace digitalisation in their business operations. Currently, traders community is burdened with numerous compliances under Goods and Services Tax (GST) and are not to do their business properly.
"Apart from this, Government is punishing traders even for small mistakes. Taking cognisance of these problems, Government should provide relief to traders," he said. Arjundas Ahuja, Vice-President of NVCC, Farooque Akbani, Vice-President, Ramawatar Totla, Secretary, Sachin Punyani, Treasurer, Shabar Shakir, Joint Secretary and Swapnil Ahirkar, Joint Secretary were present in the meeting.