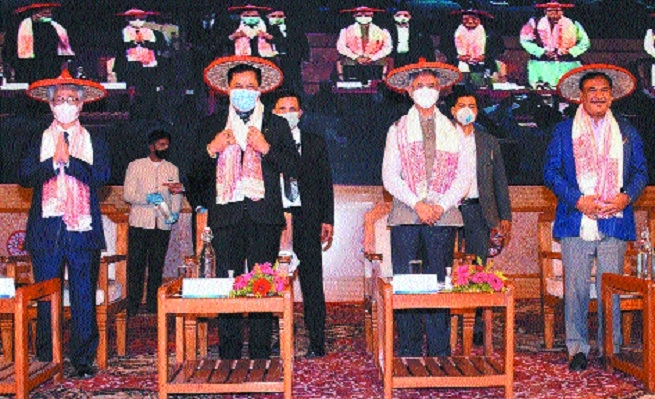 External Affairs Minister S Jaishankar (R) along with Assam Chief Minister Sarbananda Sonowal (C) and Ambassador of Japan to India Suzuki Satoshi (L) and others being felicitated during a
convention on Act East Policy and India Japan Cooperation in N-E India with focus on Assam, in Guwahati on Monday. (ANI)
GUWAHATI :
Jaishankar and Japanese Ambassador to India Satoshi Suzuki was in Guwahati to review Japan International Cooperation Agency-aided projects in Assam
EXTERNAL Affairs Minister S Jaishankar on Monday asserted that Assam is the springboard of India's Act East Policy and its all-round development is central to the success of the policy. Addressing a press conference here, the Minister said, Prime Minister Narendra Modi is deeply committed to the development of Assam, and Japan International Cooperation Agency (JICA)-aided projects in the State are examples of how international policies and partnerships can contribute to the development of States.
The Minister, accompanied by Japanese Ambassador to India Satoshi Suzuki, was here to review JICA-assisted projects in Assam. In order to bring in more investments to the region and to make the Act East Policy a success, there was a need to create an enabling environment by ensuring better connectivity, Jaishankar said. "The Modi Government has always paid special attention to Assam. This is reflected most recently in the 2021 Budget, what we call the Atmanirbhar Budget and you can see this whether it's in the expansion of the highways, roadbuilding, rail network, financial security for women teaplanters and workers," he said. Underlining that India's ties with foreign nations have undergone a dramatic transformation, Jaishankar said Assam can play a critical role for the larger nations in power, in transformation, in energy and the movement of people.
Asked about the impact of political developments in neighbouring Myanmar, which is an important component of the Act East Policy, he said, "These are early days and hopefully development projects will not be affected". Meanwhile, the Japanese Ambassador also spoke on how the Japan Government is providing assistance to the infrastructure in Assam. "What the Japanese Government is trying to do is offer official development assistance that would create necessary infrastructure. It is actually up to Japanese businessmen to choose Assam for their investment. To be frank, Japanese businesses are offered invitations from various States in India and there should be healthy competition among the States. Japanese businessmen need to know Assam better so that they could seek the opportunities here," he said. Earlier, Jaishankar had visited the Guwahati Water Supply Project in Assam with Suzuki.