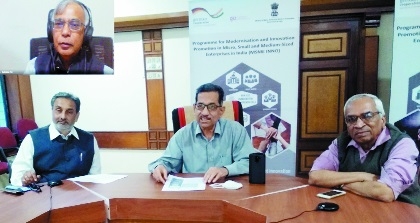 C G Shegaonkar, S M Patwardhan (Right) and Dr Ravindra Aher (Left) during the webinar. (Inset pic) Sudhakar Atre.
Business Bureau :
MIDC Industries Association (MIA) Hingna and GIZ India in association with Laghu Udyog Bharati (LUB) Nagpur recently conducted a free webinar on the topic 'Managing bank borrowing during COVID stress and post Budget 2021'. The expert speaker for the session was Sudhakar Atre, Honorary Banking Advisor of Laghu Udyog Bharati and freelance speaker/ author on banking. Although Government has taken a lot of initiatives to provide support to MSMEs/ businesses, it will take considerable time for MSMEs to come back to normal. C G Shegaonkar, President of MIA initiated the event by addressing all the participants of the webinar with a welcome note. Dr Ravindra Aher, Consultant, GIZ India shared the need of the webinar in present business context especially for MSMEs. He also introduced participants to the speaker and shared his professional background followed by general instructions remarks. Keynote speaker, Sudhakar Atre said that the RBI announced COVID-19 Regulatory Package and the various provisions under it.
He explained about the Emergency Credit Line Guarantee Scheme (ECLGS) and its two components namely ECLGS 1.0 and ECLGS 2.0 with details and eligible sectors. He said, "Although several such measures have been announced, but considering the magnitude of the impact of COVID-19 these measures will serve limited purpose. Hence, only alternative is restructuring the MSME loans and providing additional funds for commencing operations." Further he emphasised on identification of stress and classifying stressed accounts as Special Mention Accounts (SMA) with further sub-categorisation under SMA as SMA0 - 1 to 30 days, SMA 1 - 31 to 60 days, SMA2 - 61 to 90 days and on 91st day account becomes NPA. Illustrative list of signs of stress for categorising an account as SMA0 and rectification regarding the same, were some other topics covered.
He also focused on the topic of 'Restructuring of accounts of stressed MSMEs' wherein NPA norms, restructuring of accounts without downgrade, extension of scope and time of the restructuring scheme were explained in detail. He also explained major announcements linked with Production Linked Incentive scheme (PLI), National Infrastructure Pipeline (NIP), Development Financial Institution (DFI), framework for MSMEs for debt resolution along with sizable allocation of funds to railways, road and infrastructure projects that are vital and will create a positive impact on MSMEs. Dr Ravindra Aher moderated the question-answer session while Shegaonkar proposed the vote of thanks.