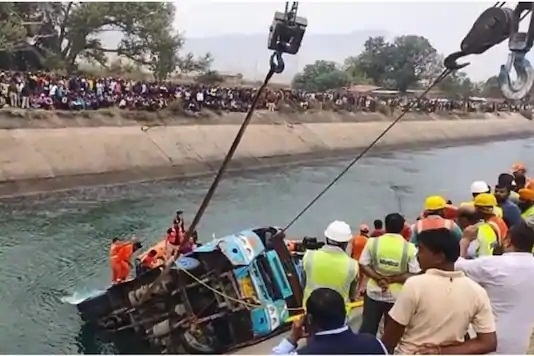 Our Correspondent :
SIDHI, Forty-SEVEN people met a watery grave when a speeding bus in which they were travelling fell in a 25-feet deep canal near Patna bridge, 25 kms from Rampur Naikin area, at around 7.30 am on Tuesday. Till the time this report was filed, 47 bodies, including 25 men and 21 women and a child, were recovered. By late evening on Tuesday, rescue operation was stopped and seven passengers have been saved. The rescue operation will be restarted at 6 am on Wednesday. The driver of the ill-fated bus was also saved. Survivors informed that the bus had a seating capacity of 38 but 54 passengers were travelling in the vehicle.
Many students who were scheduled to appear in the Railway exam were also in the bus going from Sidhi to Satna. Due to traffic jam at Chuhiya valley, the bus was getting delayed and in a hurry to take students to their examination centres on time, the driver took the bus on a diverted route. While passing through the canal, the road was very narrow and driver could not control the bus which fell into the canal. Meanwhile, Rewa Commissioner Rajesh Kumar Jain spoke to 'The Hitavada' on phone over Sidhi bus tragedy and told that 47 dead bodies have been recovered hitherto. He also informed that Magisterial inquiry has been ordered into the mishap.
The autopsies of deceased persons were performed and after that relatives took bodies to their homes. Rampur Naikin police reached the spot and water flow in the canal from Bansagar dam was stopped. As water level came down, the bus was seen stuck on the bed of the canal. The bus was taken out using a crane. Rescue operation was launched and seven passengers were saved.
Many persons had already been swept away due to current of water and rescue team had to go till tail of the canal to fish out the bodies. SDRF and divers are still trying looking for more bodies All senior officers including IG Rewa zone Umesh Joga, DIG Anil Singh Kushwaha, SP, Sidhi, Pankaj Kumawat and SP, Rewa, Rakesh Singh, rushed to the spot to monitor the rescue operations. Thirteen members of Home Guard and SDRF teams from Satna were at the spot for rescue operations. The bodies were sent to Rewa Medical College for post mortem.