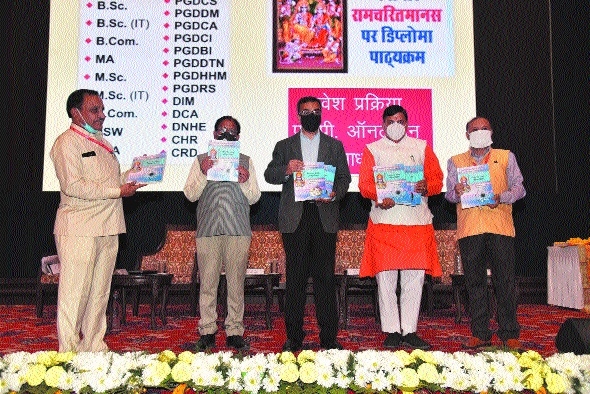 Minister Mohan Yadav and other dignitaries releasing the souvenir.
Staff Reporter :
In order to make reach of students in remote area for higher education, MP Bhoj Open University signed MoU to set up 134 study centres in Government colleges across State. The MoU was signed in presence of University Vice-Chancellor, college principals and State Minister of Higher Education Dr Mohan Yadav. On the occasion, the university also released a souvenir for diploma programme in 'Ramcharitmana'.
As per understanding, 18 centres will be set up in Bhopal division, 9 in Hoshangabad, 24 in Jabalpur, 16 in Gwalior, 21 in Indore, Rewa 13, Ujjain 19, Sagar 14. Addressing the gathering, Minister Mohan Yadav said, "Bhoj University is making reach of higher education in remote areas. It is expected that university will help to reach the target of state in making GER at record 50 percent level."
Registrar LS Solanki said, currently Bhoj University has 277 study centres and 1.5 lakh students. He said efforts are being made to run regional centres in its own building. Anupam Rajan, Principal Secretary DHE said, new study centre will help to connect more youngsters with higher education. Before organising the programme of MoU, Vice-Chancellor Dr Jayant Sonwalkar conducted a meeting to form committees for further responsibility distribution. The university has already set up its study centers in 277 Government colleges in two different phases throughout State.