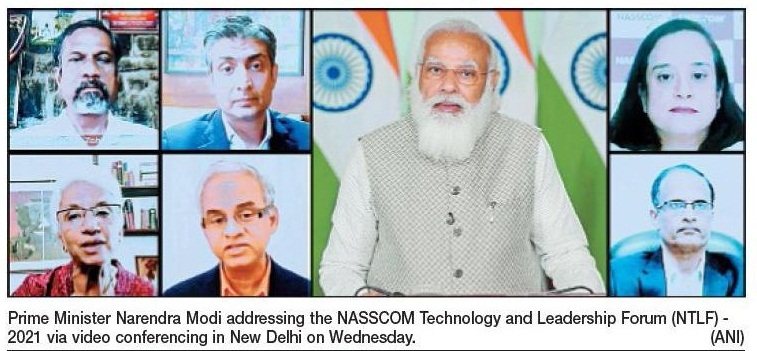 MUMBAI ;
Security considerations were the biggest 'red light' which prevented the previous Govts from undertaking the measure to liberalise map making and access to geospatial data, says PM Modi
INDIA is brimming with confidence, and the events on the borders and the Government's decision to liberalise geospatial data are representative of the same, Prime Minister Narendra Modi said on Wednesday. Modi said in the past, security considerations were the biggest "red light" which prevented the Government from undertaking the measure to liberalise map making and access to geospatial data. In the remarks, which come amid a slew of reports suggesting a disengagement between Indian and Chinese forces in icy heights of Eastern Ladakh, Modi said the confidence is a very big asset.
"Today, India is brimming with confidence. We are seeing it on the borders," he said, without explicitly mentioning the thaw with China after nearly 10 months of a stand-off. It can be noted that there was a heavy troop and military hardware buildup in the Himalayan region since last summer, after China moved troops to newer grounds amid the pandemic. One of the many confrontations turned ugly leading to deaths of soldiers in fist-fights and warning shots were also fired in another instance. The troops continued to be on vigil braving the hostile winter and according to reports, there has been a "disengagement" on the banks of Pangong Tso and south of it.
Addressing the annual Nasscom Technology and Leadership Forum organised by the IT industry lobby grouping, Modi said the decision to liberalise the geospatial data and map making is not just restricted to the area of technology, nor should it be seen as another administrative reform where the Government exits a particular field. "This decision is illustrative of India's capabilities. India is confident that even after this decision, we can ensure our security and also give an opportunity for the country's young population to excel at the world stage," Modi said.