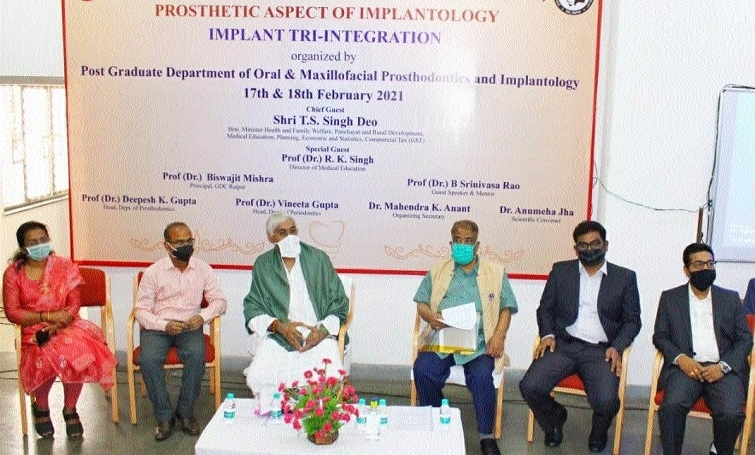 Health Minister T S Singhdeo with doctors during the inauguration of workshop at Dental College.
Staff Reporter :
RAIPUR,
Health Minister T S Singhdeo inaugurated two days workshop on Prosthetic Aspect of Implantology and Implant Tri-Intigration at Government Dental College, Raipur on Wednesday. Oral and Maxillofacial Prosthodontics and Implantology department organised the workshop to give micro training on Implantology to medical students of Dental College.
Renowned implantologist, Maxillofacial Prosthodontics and Implantologist Professor Dr B Shrinivas Rao have been invited as Guest Speaker and Mentor to imparting training during the workshop. Lecturers of the college will impart training to students on clinical second stage surgery, implant impression technique and prosthesis insertion and Occlusal adjustment in complete denture, it's principles and practical information.
In his address Health Minister, T S Singhdeo stressed that workshop will help the students in learning practical skills and knowledge so that the patients are served in best possible manner. He said state government is serious about education of medical students to improve the technical skill so that high quality health service is provided to the patients of State. Dr R K Singh, the Director of Medical Education Department said by acquiring best knowledge and skill the students will be able to perform their duty with great responsibilities. Principal of Dental College Dr Bishwajit Mishra spread light over the aim of workshop and informed about the various sessions to be organised during the workshop. Dr Dipesh Kumar Gupta, Head of Prosthodontics department, Dr Vinit Gupta Head of Periodontics department, other lecturers and large numbers of students were present.