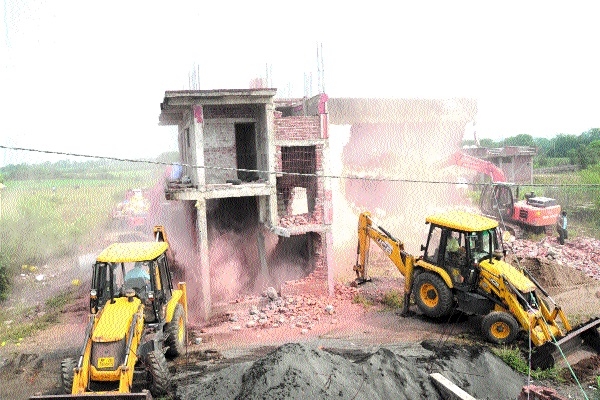 Anti-encroachment team razing the illegal structure in Madhotal.
Staff Reporter :
Continuing a special campaign against production of spurious food items, a combined team of police, district administration and Jabalpur Municipal Corporation razed encroachments of workshop and godown on 3,500 square feet land amounting to Rs 1 crore at Khasra Number 127 at Madhotal in Adhartal tehsil, on Wednesday. The encroachments belonged to Vijay Kukreja, owner of Vijay Industry engaged in illegal production of adulterated Ghee and was recently booked by Food and Drug Department.
It may be noted that Chief Minister Shivraj Singh Chouhan had directed for taking action against anti-social elements and persons engaged in food adulteration and removing their encroachments on Government land. Compliance with the directions, special campaign has been started under the supervision of Collector, Karmveer Sharma (IAS) and Superintendent of Police, Siddharth Bahuguna (IPS). During the special campaign, total police and administration have registered total 16 FIRs of food adulteration and selling spurious quality of food in the district while five of the accused were booked under National Security Act (NSA).
Continuing the campaign, police and administration team had raided a workshop and found spurious quality of Ghee produced by owner Vijay Kukreja. Continuing the inquiry against Vijay Kukreja, administration found that Vijay Kukreja illegally constructed the workshop and godown amounting to Rs. 1 crore. Acting promptly on the information, combine team reached the spot and razed the illegal construction. Construction was demolished in presence of Additional SP (Crime), Gopal Khandel, SDM, Adhartal, Rishabh Jain, Tehsildar, Rajesh Singh, Naib Tehsildar, Sandeep Jaiswal, police force and anti-encroachment squad of Jabalpur Municipal Corporation.