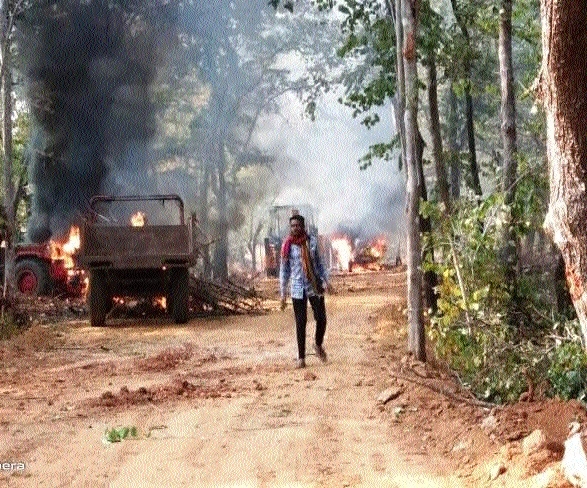 Vehicles seen on fire.
Our Correspondent :
JAGDALPUR/DANTEWADA,
IN fresh attempt to unleash a reign of terror, the Left-Wing Extremists allegedly torched as many as eight machines engaged in construction of Pradhan Mantri Gram Sadak Yojana Road from Main Road to Kachnar under Malewahi police station limits. However, no casualities occured in the incident. ASP O P Sharma said that a group of armed Naxals stormed the construction site and asked labourers to leave.
In no time, they damaged the fuel tanks and set ablaze eight construction machines/vehicles including including JCB, Trailor, Tipper and four tractors. Unconfirmed sources informed that labourers and employees were returning on Tuesday evening after the work when Naxals stopped them and damaged the fuel tank of Tipper. Naxals then took out diesel and used the same diesel in torching the vehicles. Naxals also threatened labourers but did not harm them. Naxals were dressed like civilians when incident occurred, said sources, adding that in the past too such incidents have occurred at same spot. Malewahi SHO Prashant Kumar Nag said that security forces had been sent to the spot to take stock of the situation.