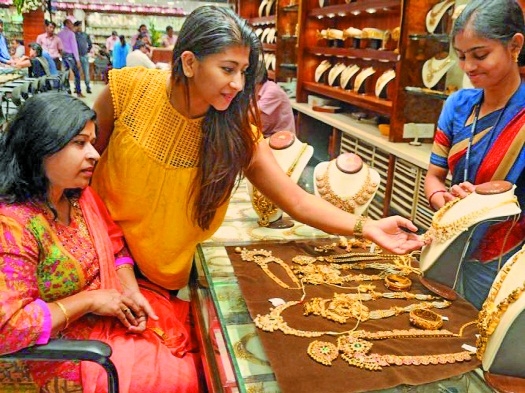 Business Bureau ;
GOLD prices after hitting record high of Rs 58,000 per 10 gram on August 8, 2020 have dropped by Rs 10,000 to Rs 48,000 per 10 gram in the city on Friday. With a steep fall in gold prices, jewellers are saying that this is a good opportunity to buy gold at lower levels as the downside seems limited from here. "With gold prices sliding by 20 per cent from its all time high, people should take the benefit of lower prices and buy gold," said Rajesh Rokde, Director of Rokde Jewellers and Director of All India Gem and Jewellery Domestic Council (GJC) while speaking to The Hitavada.
He said that a lot of investors are waiting on the sidelines and expecting further decline in prices. With the ongoing wedding season, and roll out of the COVID-19 vaccine investor sentiment has improved. "We are witnessing a growth in demand of 15 per cent to 20 per cent compared to last month. Currently, the prices of gold have stablised and this offers good opportunity to buy gold," he said. According to Rokde, it is expected that gold prices would rise to Rs 65,000 per 10 gram by end of 2021. Within a span of one year, gold prices have rallied continuously from Rs 38,000 per 10 gram to a record high of Rs 58,000 per 10 gram.
After every sharp rally there is a correction and consolidation. After the consolidation phase the gold prices would start moving upwards again. Another leading jewellers of the city, Kishor Sheth, Director of Batukbhai Sons Jewellers, Dharamepth said that with the gold prices falling sharply from record high levels people are buying gold. "The demand for gold has increased by 15 per cent to 20 per cent," he said. He said that last year people saved more money due to the COVID-19 lockdown imposed by the Government.
People did not get the opportunity to spend their money on foreign travel and marriages on a large scale. This is one of the reasons why people with their saving are spending lavishly on buying gold as a safe investment which offers good appreciation. Rajesh Khandelwal, Director of Khandelwal Jewellers, Dharampeth said that currently people are comfortable buying gold below Rs 50,000 per 10 gram. "This is a golden opportunity for investors to buy gold at lower levels and they should not miss this chance," Khandelwal pointed out.