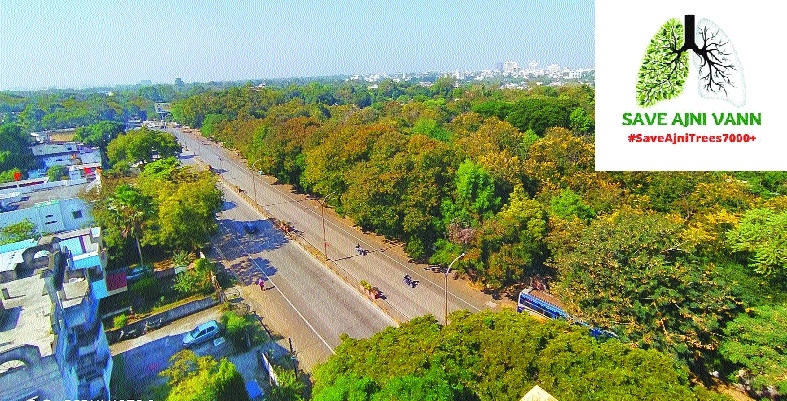 An aerial view of Ajni Railway Colony where the IMS project is proposed. (Pic by Satish Raut)
Staff Reporter :
Activists demand shifting of IMS from Ajni to Khapri
No need to construct 163 bus bays in 30 lakh population city
Though the Union Minister for Road Transport and Shipping Nitin Gadkari has instructed National Highway Authority of India (NHAI) to cut less number of trees at 'Ajni Vann' for the proposed Inter Modal Station (IMS) project in Ajni, the environment activists, on Saturday, have come up with some alternatives. Based on the geographical location of the city, it has the potential to become a focal point for art practices across the country. Keeping this in mind, the activists have proposed Art District, Art Gallery, Train Museum and Nature Trail in Ajni Railway Colony to the Government. "South Central Zone Cultural Centre (SCZCC) which is the only dedicated place for cultural art work having above 2.5 acres of land proving to be insufficient for the art festivals.
Art district in Ajni Railway Colony will provide a wider platform for people of Nagpur," said Sandeep Pathe, Conservation Architect, at a press conference held at Press Club on Saturday. Pathe and his team have done research on Ajni Railway Colony for its transformation. He said, "From the case studies we can see a pragmatic transformation of streetscapes and colonies into centres of community interaction, public art meetings and fests." Such initiatives help to bring significant value to these landmark colonies and streets which are struggling for its identity in this modern world, he added. Pathe also presented a map of the 44 acre of Ajni Railway Colony where the whole art project can be implemented for make the area famous. This evolution includes street art, wall painting, graffiti, art installations and community inclusive activities.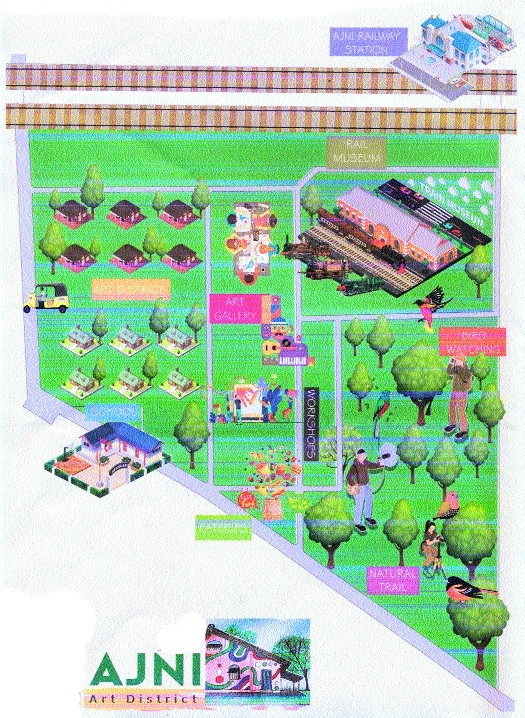 The proposed alternative map of Ajni Railway Colony which includes art district, nature trail, art gallery, etc.
The bungalows can be leased out to various brands and art galleries, temporarily or permanently. This will prove to be a popular revenue model for the authorities and also indulging the citizens of Nagpur creating a win-win situation for all. 'Shift IMS from Ajni to Khapri' Activists once again raised the demand for shifting IMS project from Ajni to Khapri which will be more convenient for outstation passengers. "IMS project at Ajni will claim more than 7,000 trees in its Phase I and more than 40,000 trees in its remaining phases. In the name of development the felling of such a huge number of trees is not acceptable," said Anasuya Kale-Chhabrani, environmentalist while talking to The Hitavada. The proposed IMS will bring in traffic from other states, other cities, inter-city buses, railway passengers along with other local traffic.
This will increased the carbon emission in the city. Hence, the city fathers must think to shift the project to Khapri which will be more convenient for all and also help to reduce the carbon footprint inside the city. "As per the vision document by NHAI, everyday around 224 trains pass through Nagpur station out of which 200 are also common to Khapri. Khapri is situated 923 meters away from the outer ring road avoids the penetration of these buses within the city, making it feasible commute through outer ring road," she said. 'Why 163 bus bays in IMS?' IMS project in Ajni is going to be the first such project in the country. It will connect metro, railway and busses at the same place where passenger can go anywhere in the country with the help of these mode of transports. However, the activists raised the question over 163 bus bays in IMS Ajni which will accommodate 100s of busses every day. "What is the need of 163 bus bays in the city when the population of Nagpur is just about 30 lakhs?," said Jaideep Das, former honorary Wildlife Warden. Chennai has the biggest bus terminus in Asia with 180 bus bays. the terminus accommodates 100s of busses daily from different parts of the state and other states.
Similarly, Delhi has the second biggest bus terminus with 166 bus bays and Hyderabad has a bus terminus with 74 bus bays. The population of all these three cities are in crores. Therefore, how it is relevant to have a bus terminus of IMS project with 163 bus terminus?, Das added. 'Is shifting of IMS to Khapri will reduce carbon emission?' The environment activists raising the demand of shifting of IMS project in Khapri for conservation of 'Ajni Vann'. However, shifting of IMS from Ajni to Khapri will also increase the number of vehicles, other than busses, to transport passengers. For example, district administration issued order to shift the private bus stops outside the city limits like Pune. But, it require proper public transport facility for passengers who have to catch their busses outside the city.
Similarly, the civic body have to arrange public transport to Khapri for passengers who are going to IMS in Khapri, other than Metro Rail which is already there. Many people will also prefer their private transport to go to IMS in Khapri. At this situation, the carbon emission through public and private transport will increase drastically and the cost of the project will also increase. The objective of shifting of IMS project from Ajni to Khapri for nature conservation will may collapse at this situation. The Government and environment activists must have to think on this aspect too.