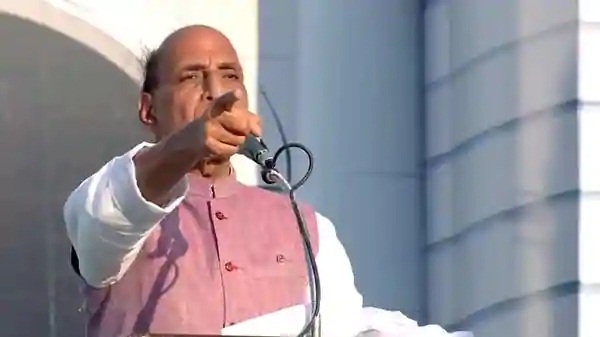 Defence Minister Rajnath Singh addresses during BJ Convention, in Salem on Sunday. (ANI)
SALEM ;
The Government under the leadership of Prime Minister Narendra Modi "has never compromised with country's unity, territorial integrity and sovereignty"
THE disengagement process by India and China in eastern Ladakh is 'complete' after nine rounds of diplomatic and military level talks between the two neighbours, Defence Minister Rajnath Singh said here on Sunday as he hit out at Congress for 'doubting' Indian soldiers' bravery. The country will not allow any "unilateral action" on its border and will pay any cost to thwart such attempts, he told the Bharatiya Janata Yuva Morcha's (BJYM) State conference here. "After nine rounds of military and diplomatic dialogue, the disengagement process is complete. But unfortunately the Congress is doubting Indian Army's bravery.... isn't it insulting to the soldiers who do the supreme sacrifice," he said.
The Government under the leadership of Prime Minister Narendra Modi "has never compromised with country's unity, territorial integrity and sovereignty" and it shall never do so, he asserted. Centre focused on promoting rural industries, says Rajnath: MASTER artisans and craftsmen can contribute big time to the country's economy and the Central Government's aim is to take the rural industries' annual turnover of about Rs 80,000 crore to Rs 5 lakh crore within the next two to three years, Union Minister Rajnath Singh said on Sunday while inaugurating the 26th edition of 'Hunar Haat' in New Delhi. More than 600 artisans and craftsmen from over 31 States and Union Territories are participating in the Minority Affairs Ministry's 'Hunar Haat' being held at the Jawaharlal Nehru Stadium here on the theme of "Vocal for Local" from February 20 to March 1.
The official inauguration, however, was held Sunday. The artisans and craftsmen have a very important role in contributing to the country's economy and GDP, Defence Minister Singh said. "This is the irony that our rural industries did not get the kind of encouragement they should have. But our Government is focused on promoting rural industries," he said. "The turnover of rural industries per year is approximately Rs 80,000 crore and our Government aims to take this turnover to Rs 5 lakh crore within the next two to three years," he said. Hailing the 'Hunar Haat' initiative of the Minority Affairs Ministry, Singh said it would go a long way in achieving the objective of 'Aatmanirbhar Bharat'. Singh said the 'Hunar Haat' brings together indigenous artisans and craftsmen from across the country.