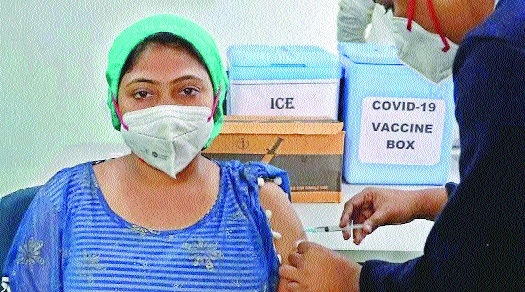 COVID vaccine being
administered to a health worker.
NEW DELHI,
THE Union Health Ministry has written to all States and UTs highlighting the need to significantly enhance the pace of COVID-19 vaccinations, noting that a large number of healthcare and frontline workers still remain to be covered. In a letter addressed to Chief Secretaries of all States and UTs, Union Health Secretary Rajesh Bhushan said the number of days of vaccination in a week should also be increased to a minimum of four days per week at the earliest to speed up the process of vaccination and gear up system to take up the vaccination of the 50+ population.
Amid a spike in daily new cases of COVID-19 in some States including Maharashtra and Kerala, the Centre has advised them to increase the proportion of RT-PCR tests and regularly monitor mutant strains besides refocusing on strict surveillance and stringent containment in selected districts. India has been witnessing a rise in the COVID-19 active caseload over the past few days which is pegged at 1,45,634 as on date and now consists of 1.32 per cent of India's total infections. "More than 74 per cent of the active cases of the country are in Kerala and Maharashtra. Of late it is seen that there has been a spike in the daily cases in Chhattisgarh and Madhya Pradesh also. Punjab and Jammu and Kashmir too are witnessing a surge in daily new cases," the Ministry said.
While some States are carrying out vaccination twice a week some others are carrying out more than that. Adequate provisions have been made in the Co-WIN software to support such expansion of services, he said. The letter dated February 19 stated a large number of healthcare and frontline workers still remain to be covered and the progress is variable across several States and UTs. "As highlighted during several review meetings that have been conducted with the States and UTs, the pace of vaccination drive and its coverage needs to be accelerated exponentially to cover all identified beneficiaries in a minimum possible time. "Further, the operational strategy for initiating the vaccination of next priority group of elderly population and persons with comorbidities to be taken up in March, 2021 is also being finalised," the letter said.