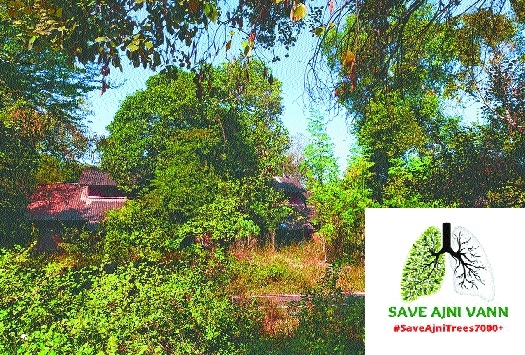 By Kaushik Bhattacharya :
Exotic species are harmful for local biodiversity, say nature conservationists
The felling of age old trees in 'Ajni Vann' for Inter Modal Station (IMS) project in Ajni is going to be a big ecological loss for the area, reveals a city-based environment conservation organisation Punarnava Ecological Services here on Sunday. The organisation conducted a survey to know the species of trees in Ajni Vann recently. It found that out of 56 noted species in the locality 39 were native.
"A large number of trees in the locality are more than 80 years of age. Most of them are native and having dense canopy. Felling of these native age old trees will be a big loss for us and compensatory plantation will not re-generate the rich ecosystem of the locality," said Prachi Mahurkar, Nature Conservationist, Punarnava Ecological Services to The Hitavada. National Highway Authority of India (NHAI) and Nagpur Municipal Corporation (NMC) had conducted tree survey of Ajni Vann recently. NHAI is planning to do compensatory plantation in the locality, but Mahurkar said it is a bad idea. "The proposed list of plants which is given by NHAI contains not only exotic species but some are invasive species too which are proven harmful for the local biodiversity," she added.
According to Mahurkar, "The proposed tree list contains shrubs like Hibiscus, Duranta, Custard Apple (Sitaphal), etc. which can not be compared with trees like Mango, Peepal, Chilbil, Behada etc. in size or usability or ecological value." A tree which is well conserved can last for many centuries and keeps becoming more efficient in providing ecological services like carbon sequestration, humus production, water retention etc. until it is destroyed or it collapsed completely, Mahurkar explained. There are 19 species of 'Ajni Vann' which can survive more than 100 years if it gets proper conservation. The felling of such a long living trees will destroy the ecosystem of Ajni Vann and we can not pay it back by planting trees, she added. We never mind to destroy nature in the name of development. But, it is a high time when we have to think about nature over development. India is the only major country which is moving in the right direction to achieve the targets of the Paris Agreement. The counting of species of trees in 'Ajni Vann' is definitely a small initiative, but Government must do such survey before planning to cut trees for any development project in all over the country.
Species of trees found in Ajni Railway Colony Native - Amaltash (Indian Laburnum), Shirish (Parrot Tree), Kadulimb (Neem), Peepal, Shisvi (Sisso), Chinch (Tamarind), Amba (Mango), Chilbil (Monkey Biscuit Tree), Reetha (Indian Soapberry), Ber (Indian Jujube), Maharukh (Mahaneem), Junglee Badaam (Wild Indian Almond), Umbar (Indian Fig Tree), Santra (Orange), Sagvan (Teak), Amla (Indian Gooseberry), Parijatak (Night Flowering Jasmine), Katesavar (Red Silk Cotton Tree), Kanchan (Orchid Tree), Shevga (Drumstick Tree), Kamal (Mundi), Phanas (Jackfruit), Behada (Beach Almond), Green Bamboo, Karanj (Indian Beech), Kinhaii (White Shirish), Saptparni (Devils Tree), Bakul (Asian Bulletwood), Naral (Coconut), Nivdung (Indian Spurge), Bhokar (Indian Cherry), Nirgudi (Nirgundi), Putranjeeva, Vad (Banyan), Katumber (Wild Fig Tree), Kunti (Madhukamini), Bel (Golden Apple), Kadamb (Burflower Tree). Exotic - Chichbilai (Monkeypod), Ashok (Mast Tree), Gulmohar (Ramboyant Tree), Subabhool (Horse Tamarind), Parjanya Vruksha (Rain Tree), Sonmohar (Copper Pod), Kashid (Sayami Cassia), Badam (False Almond), Brahmadanda (African Sausage Tree), Chikoo (Noseberry), Chapha (Frangipani), Nilgiri (Eucalyptus), Pink Cassia (Coral Shower Tree), Sitaphal (Custard Apple), Peru (Guava), Pachodia (African Tulip Tree), Ramphal (Wild Sweetsop).