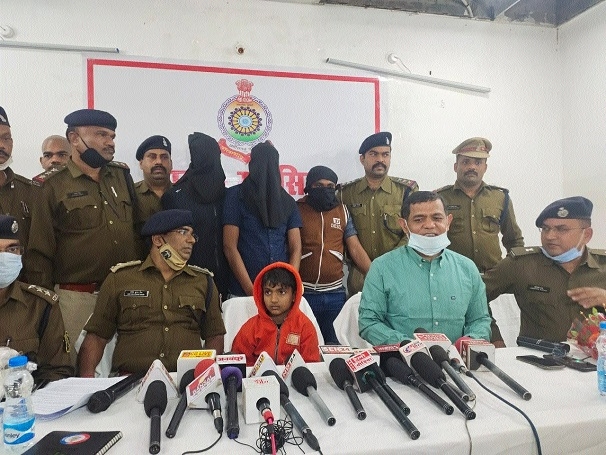 Accused in police custody. Also seen in the picture are Bilaspur IG Ratan Lal Dangi, SP Santosh Kumar Singh and other police personnel with Shivansh Agrawal.
Our Correspondent :
RAIGARH,
RAIGARH police have rescued the six year-old boy, who was kidnapped from Kharsia on Saturday evening, and arrested three people in this connection. Raigarh police rescued the boy from Jharkhand's Khunti district within seven hours under the 'Shivansh Operation'. As per police, the accused has been identified as Khilawan Das Mahant alias Nikhil (28) resident of Sarwani in Janjgir-Champa district, Amar Das Mahant (23) resident of Navapara Kharsia and Sanjay Sidar (30) resident of Navapara Kharsia. Khilawan Das Mahant worked as a cook at Shivansh's house and hatched a conspiracy of kidnapping with the other two co accused. According to information, 64-year old Kharsia-based businessman Ramesh Kumar Agrawal, resident of Chapriganj, lodged a complaint with Kharsia police on Saturday evening that his 6-year old grandson Shivansh Agrawal has been abducted by his family cook Khilawan alias Nikhil.
Complainant informed the police that they had appointed Khilawan as cook but fired him a few days ago because he was no longer required. On February 20, Khilawan came to their house and took Shivansh with him on his motorcycle by luring him of giving chips. Based on the complaint, Kharsia police registered an offence under section 364-A of Indian Penal Code (IPC) and started the investigation. Soon after getting information about the abduction of the six-year old boy Shivansh Agrawal, Raigarh police swung into action, with SP Santosh Kumar Singh personally monitoring the operation. As per police, Shivansh Agrawal was kidnapped at 5:30 pm on Saturday and soon after learning this, SP Santosh Singh with his team reached the spot. Bilaspur Range IG Ratan Lal Dangi also visited the police station for monitoring the operation.
On the basis of some clues recovered, a police team was mobilized towards Jharkhand by the SP while the police was also conducting raids at the houses of other suspects. SP Santosh Kumar Singh, during the Press Conference, told that they learnt that the accused instead of using the main road, were trying to cross Raigarh border via Bamhanindi, Nandeli and Tarapur. Although, it was seen in the CCTV footage that Khilawan had abducted the boy on a motorcycle but later he along with his accomplices shifted to a car. Later, they headed towards Jharkhand and were planning to hand over the boy to a notorious kidnapping gang of Jharkhand. The accused had planned to demand Rs 25 lakh as ransom from Shivansh's family, said police. District police alerted Police SPs of adjoining border districts of Jharkhand state and shared the details with them. Moreover, a police team was continuously chasing the offenders. Meanwhile, the police learnt that the accused have headed towards Khunti district in Jharkhand and reported the matter to Khunti police.
Khunti police had installed a check-post and while checking the vehicles, they spotted a car matching the description given to them by the Raigarh police. Finally, the boy was rescued and all three accused were arrested with the efforts of Khunti and Raigarh police.Raigarh Police informed that Shivansh has been brought to Kharsia safely and the accused are being interrogated.Police seized Maruti Ertiga (CG 13 AE 7025) used by the abductors, a plastic sack, towel, a bottle of chloroform, rope and some eatables from the possession of the accused. Police also seized a knife which was held by accused Amar Das Mahant. The accused were arrested under section 368, 120 (B), 34 of IPC and Section 25 of Arms Act. Bilaspur IG Ratan Lal Dangi, Raigarh SP Santosh Kumar Singh, ASP Abhishek Verma, Kharsia SDO (P) Pitambar Patel and other police personnel were part of this action. Raigarh SP has sent a citation to the Jharkhand Police, especially the Khunti Police, to express his gratitude. On the success of Raigarh Police, DGP DM Awasthi has announced a reward of Rs 1 lakh for the team for rescued the child whereas IG Dangi has announced a reward of Rs 10,000.